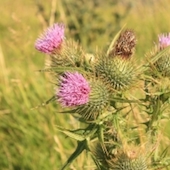 I was pretty stoked: God had given me an out! I had discovered the Bible verse that indicated anorexia was something I could struggle with my whole life.
Now, that sounds discouraging, but then, as someone who had fought the battle with anorexia for over a decade and continued to lose, it seemed like a welcome release. Perhaps I didn't need to fight so hard, maybe this was something God had given me; my personal struggle. Maybe God wasn't going to heal me or rescue me, maybe I could quit hoping and waiting and trying because this was just "my thing".
Second Corinthians 12:6-10 says, " Even if I should choose to boast, I would not be a fool, because I would be speaking the truth. But I refrain, so no one will think more of me than is warranted by what I do or say, or because of these surpassingly great revelations. Therefore, in order to keep me from becoming conceited, I was given a thorn in my flesh, a messenger of Satan, to torment me. Three times I pleaded with the Lord to take it away from me. But he said to me, 'My grace is sufficient for you, for my power is made perfect in weakness.' Therefore I will boast all the more gladly about my weaknesses, so that Christ's power may rest on me. That is why, for Christ's sake, I delight in weaknesses, in insults, in hardships, in persecutions, in difficulties. For when I am weak, then I am strong."
See, I thought, even Paul had something that he struggled with his whole life. 
But as I prayed about this and tried to find the peace that proved I had found the solution to my struggle, it wasn't there.
Paul's thorn served a specific purpose. In the preceding verses, Paul says that the thorn was given to him to keep him from boasting in himself; it was not a random affliction such that "everyone has one".
Paul had become an untimely apostle, having seen the risen Jesus after his ascension. After that, with many visions, his extensive schooling in The Law, his dual citizenship and rightful authority and notoriety as an evangelist, Paul had good reason to be proud. God gave him this "thorn" as a reminder that he was not self-sufficient and perhaps even as a physically humiliating attribute that kept others from idolizing him.
My eating disorder can never be compared to Paul's thorn in the flesh. First, the Bible says that God tempts no one. I believe that my anorexic behaviors were evidence of idolatry—worshipping myself. God frequently commands us to have no god besides Him. He will not "give" me an idol.
Second, Paul closes this passage by saying that he rejoices in his weakness so that the power of Christ might rest on him. To resign myself to an eating disorder as simply "my thorn" does not express the power of Christ and honor Him as the supreme one and only God, as The Redeemer.
Indeed, my eating disorder kept me on my knees before Jesus, more aware daily of how much I need Him. However, His power is made evident in my surrender to Him, not in my resignation to anorexia.
RELATED:
A Slave Set Free, by Jen Tormanen
Why Aren't Food Issues Talked About in Church, video resource
Lasting Freedom, online support program