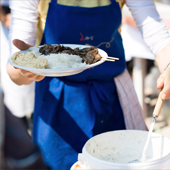 I will spend this afternoon cooking.
Quite truthfully, in the past that sentence would have made me feel guilty. Anorexia dictated my opinion – food was bad. To talk about hunger was to admit weakness and need. I refused to discuss recipes and restaurants. I hated that my mind was consumed with food; the very thing I avoided at all costs, devoured my peace.
In recent years, as I ascend from the pit of an eating disorder, I have begun to spend more time in the kitchen. In fact, the other day I actually listed cooking as one of my hobbies.
But today is about someone else's hunger. Today is about another person's weakness, another person's need and my joy that God is giving me the resources to reach out.
FACETS is a county-supported program in my area that serves the homeless. They work to provide housing, help with bills, job seeking…and food. Since 1988, every single day, a team of unrelated mercy-givers assembles hot meals for about 90 people. Today, I'm one of the cooks. Our team will meet in a local church kitchen and spend hours dicing, steaming, cooking, bagging, loading and then serving.
There are many other ways that I can volunteer in the community. There are many other needs to meet and other ways to care. But I am excited to finally admit and appreciate the primal need for and blessing of food.
Beyond simply survival, food, in all its forms, is good. Even in their dire situations, the homeless find joy in a hot meal and the smiling faces of those who remember them. I doubt any of them realize the ministry that they are having to my own heart.
Perhaps today isn't about someone else's weakness. It is about me, accepting God's perfect strength in my weakness and letting Him use me.
"But he said to me, 'My grace is sufficient for you, for my power is made perfect in weakness.' Therefore I will boast all the more gladly about my weaknesses, so that Christ's power may rest on me. That is why, for Christ's sake, I delight in weaknesses, in insults, in hardships, in persecutions, in difficulties. For when I am weak, then I am strong." 2 Corinthians 12:9-10
RELATED
I've Come a Long Way, Baby (Abby Kelly)
Does God Care about My Eating Issues? (Video)
Eating Disorder Warning Signs (article)