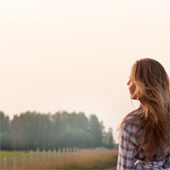 Even as I start to write this, something inside me says, No one else cares. This won't speak to their hearts or encourage them. It's just you.
But one of the lies of an eating disorder is: I am the only one. I'm the only one who will get fat if I eat birthday cake. I'm the only one who has to workout this much. I'm the only one who's afraid of pasta, peanut butter and pie. I'm the only one who's bent over the toilet. I'm the only one who is so pathetic that they are in a treatment center. So if my words convince even one person that they are not alone, it's worth it.
Seven years into recovery, I was holding my weight steady at the bottom end of healthy. I was eating fairly normally, but my addiction to exercise still forced me out of bed at 4:30 a.m. to put in double-digit miles running alone on the darkened streets of Columbus, Ga.
Dutifully, I was still seeing a counselor. She kept a watchful eye on my weight, questioned my deceptive thought patterns, and challenged me to be brutally honest with myself. She began to question my insatiable need to run.
"What would happen if you ran less, if you didn't run at all? Are you relying on your workouts to give you permission to eat?"
Furious, I told her "of course not" and kept up my insane routine. But in my heart, I was scared. I knew that I could never, ever workout less than I had the day before. Each time I reached a new distance or speed, I imagined that anything less would mean I was becoming lazy.
Fast forward four years. I don't know exactly when it happened, but with desperate prayer and a counselor's gentle pushing, I find myself in a whole new routine. In fact, I'm not in much of a routine at all.
Today, I do a different workout every time. Today, I only run when my dog wants to. Today, my longest workouts are an hour; 30 minutes is more typical. Today, I'm not fat, I'm not lazy, I'm not undisciplined. Today, I am strong, I am capable, I am having fun.
There were so many lies swirling through my mind at any given moment as I grappled with anorexia. One of the worst lies was that starving myself and pushing myself farther and faster made me stronger than anyone else.
Truthfully, it took greater strength to step off the treadmill and eat a handful of peanuts. And truthfully, it's been more rewarding. I've come a long way, and I'm not talking about miles.
RELATED
Renewal Will Rise (Mallory Monroe)
My Recovery: A Picture of God's Grace (blog)
How a Getting a 'B' Changed My Life (Life After Treatment, Ch 6)