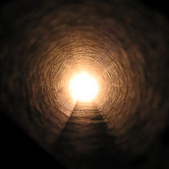 I was anorexic for six years while I was in my 30s. What a dark and lonely time that was. None of my family or friends knew about the eating disorder, I didn't have the internet at home, and there was no help for eating disorders available in my area. Not only that, but during my early days with anorexia, I was even away from God. I struggled with despair and hopelessness, depression and suicidal thoughts.
Step-by-step, the Lord drew me back to Himself. It was a process that took time, but it was a very sweet time in our relationship that I will always treasure. Yet even after becoming close with Him again, I still struggled with the eating disorder. I considered asking for His help, and I was confident He would help me. But that's why I didn't ask, because a part of me still wanted to cling to anorexia.
Over time, I became sicker, and I didn't want to see myself still struggling with the eating disorder in the future. It was time for me to get serious about my recovery again. Finally, I was ready to let go of anorexia and leave it behind me. I saw a dietitian a few times to obtain a meal plan. That was helpful since I no longer knew the appropriate amount of food to consume in a day. And yet to make the meal plan truly work for me, I needed divine help.
For the first time, I prayed a prayer of surrender and allowed the Lord to lead my recovery. I saw for myself that as long as I was in control, I just experienced more of the same. But I was confident that God would lead me out of the bondage of anorexia.
Although the eating disorder didn't automatically disappear, I could sense the Lord was with me. He led me to renew my mind, and that was one of the keys in my recovery. I recognized the lies and negative thoughts that fueled the eating disorder, and I focused on the truth and positive thoughts instead. I wrote verses, quotes and truthful statements on note cards because I didn't trust myself to recall them on my own when I needed them most. It was an effective tool for me. There were some very meaningful and vital parts in my journey to break free of anorexia, and renewing my mind was one of them.
Since I have recovered, I've considered myself a picture of God's grace. Here, I walked away from Him, but he drew me back to himself. I mistreated the body He gave me, and I resisted His help. Yet when I was finally ready to let go of the eating disorder, He was right there, ready and waiting to help me. He directed me to His Word, He strengthened me whenever I asked, and He ultimately led me to freedom. I sure didn't feel I deserved it. But that's grace. We don't earn it, but we're blessed by it.