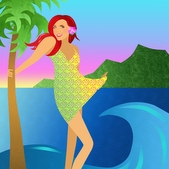 Bikinis & bathing suits + toning up + beaches + dieting + friends + losing weight + vacation + fun + watching what you eat = Spring Break 2012? Wait a minute –something about this doesn't sound right. Because it's not!
Spring Break is supposed to be about taking time off from school to refresh your mind, body and spirit. But how many of you know friends who 'prepare' for Spring Break by spending extra time at the gym to "tone up", going on a diet, trying to lose weight, or watching what they eat?
This "I've got to lose weight before Spring Break" mentality can be very dangerous. It wreaks havoc on the body and on the mind. It disrupts metabolisms, weakens immune systems, and often is followed by "rebounding" —gaining weight after the "pre Spring Break diet" ceases –which can lead to increased dissatisfaction with one's body, depression, binges, and it can also lead to eating disorders. Not to mention, this way of 'prepping' is not much fun at all.
Pledge to be Different!
So what can you do to prevent this from happening to you and your friends? You can sign the Spring Break Pledge 2012!! Even if you don't get a "Spring Break", please consider signing the pledge to encourage healthier behavior for all of us.
RELATED VIDEO: Bathing Suit Worries