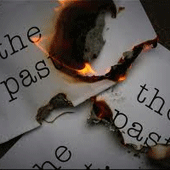 When I was struggling with an eating disorder, I can remember trying to explain to my loved ones that my biggest desire in life was to be normal. I had forgotten what it was like to eat something without knowing its complete nutritional content, and I had lost touch with what it felt like to be active just for the sake of fun. I simply knew too much; I was too aware. Deep within my heart I knew I'd never forget the way I had programmed my mind to compensate for my errors in life, and this is what scared me the most – not being able to forget.
What continued to hold me back that I didn't think I should be allowed to forget, and by using food to manage the regret, I thought I could silently punish and blame myself for a multitude of mistakes, mishaps, and misguided situations I had directed and authored over the course of my adolescence. My all-or-nothing mentality didn't help matters, either. I've always felt that if I decide to do something, I want it to be done well; otherwise, why try? My eating and weight issues were no exception to the rule. I flip-flopped from one extreme to the other, hoping that each new time I tried to get back on track (diet), I would glide down the yellow brick road to happiness with ease and grace. Year after year, however, I was proven wrong. I fought a losing battle because I couldn't let go. I couldn't get over my mistakes even though God had.
Thankfully, I became so mentally exhausted that I eventually grew desperate to make a commitment to God to completely change my perspective on the way I saw myself and my future. With this new desire, God began to reveal his wisdom to me in a whole new way. He showed me that I was going to have to forgive myself if I ever wanted peace. It was one of the hardest things I had ever done, but it worked. I realized that it was ludicrous to expect forgiveness from others if I couldn't forgive myself. In Ephesians 4:32, God advises us to forgive others just as He forgave us. This includes forgiving ourselves!
Before I could seek true forgiveness, however, a few things had to be established. First, I accepted that I'm not normal, and I'm not ever going to be normal. I'm better than normal. Secondly, I vowed that one day, I'd find a way to spread the word and inspire people to change for the better. Next, I elected to let go. Why hold onto the past? I had already freed myself from the people, the places, and the ideas that had triggered me for entirely way too long, so why was I still attaching my identity to them? Finally, I promised to face my fears and refuse to diet again.
We should never under any circumstances let our pasts dictate our futures. God has already taken care of that; He wrote the stories of our lives before time began! God wants us to grow, but this can't happen if we're spiritually stuck in the past. When God forgives us, He gives us the release to forgive ourselves. Forgiveness is there. It always has been. It's simply up to us to accept it and let it free us from our pasts. Only then will we see ourselves the way we were intended to be. Only then will we taste the sweetness of freedom.