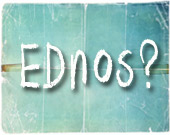 According to the DSM-V (Diagnostic and Statistical Manual of Mental Disorders), there is a classification of disordered eating that falls outside of the criteria for Anorexia Nervosa, Binge Eating Disorder and Bulimia Nervosa. This category is referred to as "OSFED" or "Other Specified Feeding or Eating Disorder." In past editions of the DSM, the category was called "EDNOS" or "Eating Disorder Not Otherwise Specified," sometimes referred to as "sub-clinical" or "sub-threshold" disorders. The updated criteria were devised to help clinicians more accurately diagnose eating disorders.
Persons struggling with OSFED/EDNOS can exhibit a range of  behaviors like weight preoccupation, frequent concern about body size,  bingeing, purging, obsessive dieting, compulsive exercising and more.
OSFED doesn't mean it's not serious…
Just because a person doesn't fit the criteria for anorexia or bulimia does not mean they don't have an eating disorder requiring attention. And don't be fooled by appearances; most disordered eaters are normal weight or overweight, not skinny. But they still seriously struggle. In fact, many who struggle in the OSFED category are at risk for the same dangers as those who meet criteria for other disorders, including the risk of dehydration, electrolyte imbalance, heart attacks  and even death.
DSM-V Technical Criteria for OSFED
With OSFED, symptoms are present that are characteristic of a feeding and eating disorder that cause clinically significant distress or impairment in social, occupational, or other important areas of functioning. The symptoms, however, do not meet the full criteria for other eating disorders.
With a diagnosis of OSFED, the clinician will also indicate why the presentation does not meet the criteria for any specific feeding and eating disorder, using descriptions such as "bulimia nervosa of low frequency."
Below are some examples of OSFED:
Atypical Anorexia — All of the criteria for Anorexia Nervosa are met except that despite significant weight loss, the individual's weight is within or above the normal range.
Bulimia Nervosa (of low frequency and/or limited duration) — All of the criteria for Bulimia Nervosa are met, except that the binge eating and inappropriate compensatory behaviors occur, on average, less than once a week and/or for less than 3 months.
Binge-eating Disorder (of low frequency and/or limited duration) — All of the criteria for Binge Eating Disorder are met, except the binge eating occurs, on average, less than once a week and/or for less than 3 months.
Purging Disorder — Recurrent purging behavior to influence weight or shape (e.g. self-induced vomiting, misuse of laxatives, diuretics, or other medications) in the absence of binge eating.
Night Eating Syndrome — Recurrent episodes of night eating, as manifested by eating after awakening from sleep or by excessive food consumption after the evening meal. There is awareness and recall of the eating. The night eating is not better explained by external influences such as changes in the individual's sleep-wake cycle or by local social norms.  The night eating causes significant distress and/or impairment in functioning. The disordered pattern of eating is not better explained by Binge Eating Disorder or another mental disorder, including substance use, and is not attributable to another medical disorder or to an effect of medication.  (See the article "Night Eating Syndrome" for more information.)
Source: Diagnostic and Statistical Manual of Mental Disorders, 5th Edition, American Psychiatric Association
A Range of Behaviors
Based on the limited technical criteria above, following are some additional examples of the behaviors associated with persons who may be struggling with OSFED. (Please note: this is by no means a comprehensive listing.)
You're always on a diet, always coming off a diet, or always getting ready to go on one again (chronic dieting).
You categorize foods as "safe" and "off limits," but weigh within normal ranges and are not participating in bulimia.
You starve yourself regularly, but are not significantly underweight (i.e. less than 85% ideal weight)
You eliminate entire food groups from your diet (yes, that includes carbs!).
You are obsessed with exercising but eat fairly regularly.
You binge and/or purge, but less than once a week.
You substitute supplements and fad diets for real food, but weigh within normal ranges.
You skip social occasions because you feel fat, or because you are afraid of what's being served, yet your weight is normal.
You eat large amounts of foods in secret and hide the evidence.
You believe that everyone is as focused on your weight as you are.
You refuse to eat regular meals, choosing instead to 'nibble' throughout the day on small portions of food (which usually leads to bingeing).
Each behavior in the above list is considered a disordered eating practice. The underlying fears, shame and preoccupations interfere with personal relationships and lead to social isolation. Perhaps you partake in one or several of the behaviors. Whether you qualify for an eating disorder diagnosis or not, it's time to break free from these practices and learn to live in a healthier, freer way — without obsessing about food or feeling out of control.
The Eating Continuum
When thinking about disordered eating, it is helpful to think of eating as being on a continuum, as pictured here:

Schematic 1.0 "The Eating Continuum"
as featured in Life Inside the Thin Cage, by Constance Rhodes.
Published by Shaw Books. Page 19. Used by permission.
Because eating issues appear as on a continuum, ranging from healthy to life threatening, it is common for some individuals to swing from one end of the continuum to the other. For example, a person who frequently diets might suddenly discover quicker weight loss through the use of purging. The more they engage in this behavior, the farther down the continuum they get from healthy eating. On the other hand, a person who once struggled with anorexia may now be at a healthier weight with regular menstrual cycles (females).  But if they remain afraid of eating certain foods, that could place them into the OSFED/EDNOS category, still making their way back to healthy eating.
Thus, it is important to be aware of the ways in which an individual feels about food, so that the seriousness of their issues are clear, in order for that individual to begin making intentional steps toward the healthy end of the continuum. This process is a difficult but worthwhile one, requiring the individual's desire to change, the therapeutic involvement of others (doctors, nutritionists, counselors, friends) and, most importantly, God.
A Common Struggle
While there is not a lot of data on OSFED in particular, the following facts and figures reinforce the widespread problem of disordered eating and body image concerns:
3/4 of women have some sort of eating issue.
As many as 66% of women and 52% of men report feelings of dissatisfaction or inadequacy regarding their weight
35% of dieters in the US engage in "Pathological Dieting"
The body-mass index for most Miss America winners in the past 3 decades lies within the range of under-nutrition
¾ of women whose weights fall in the "normal" range feel too fat and wish to lose weight, desiring on average to weigh only slightly more than weights in the Anorexia Nervosa range
Sub-Clinical disorders are documented as being the most common type of disordered eating among college women
Nearly 3 out of 4 adolescent girls have been or are currently dieting
Athletes with higher levels of weight and diet concerns also show higher levels of neuroticism and lower levels of emotional "well-being" and stability
Sub-Clinical eating disorders often lead to the development of more serious, clinical eating disorders
In addition to early onset during childhood, adolescence and first independence, eating disorders are often developed later in life, triggered by age related weight gain, as well as life events such as marriage, pregnancy, and loss of a loved one
95% of dieters suffer from "weight cycling" (losing, regaining and even gaining additional pounds)
Some professionals estimate that as many as four out of five people engage in some type of disordered eating. This suggests that only one out of five people have a truly healthy relationship with food — enjoying meals and eating for physical (not emotional or psychological) reasons, without obsessing about weight, worrying about calories, trying to eat perfectly or feeling powerless over food.
What To Do?
We're glad you asked! If you or someone you care about struggles with OSFED or any eating issue, we suggest you spend some more time checking out the videos featured on our site. There are many that address EDNOS/OSFED specifically, as well as several offering insight into how to break free from this and other patterns of disordered eating.
Additional next steps for recovery might include:
Find someone to talk to who can offer objective and balanced advice, addressing the physical, emotional, intellectual and spiritual aspects of your issues. For tips on who to talk to, read the "Finding Treatment" article on this site. "Finding A Nutritionist" may also be helpful to you.
Seek community and support through our Lasting Freedom online program.
Explore the "Eat Well, Live Well" section of this site, which offers tips and nutrition information to help you find your way back to a healthy balance with regard to eating and weight control.
Buy or borrow a copy of the book Life Inside the Thin Cage, which specifically addresses EDNOS (most books on ED's don't).
Search our Books section for more books that apply directly to your unique struggle.
Give yourself permission to take your time. It took a while to get to where you are — you need to allow yourself to slowly find your way back to balance. The goal is to stop jumping from one extreme to the next, so that you can find the peace of balance. You deserve that!
The Bottom Line:
Struggling with eating issues, no matter how extreme they are, steals from your life. It promises happiness, control, acceptance, affirmation, and security, but these promises are false. Only by breaking free of your disorder will you experience the life you crave.
"Let us then with confidence draw near to the throne of grace, that we may receive mercy and find grace to help in time of need."  Heb. 4:16 (ESV)
Sources:
(1) "The Disorder Next Door," Tula Karris, Self Magazine, April 2008 (research conducted by Cynthia Bulik, PhD
(2-4) "Body Image In The Balance", Devlin, Zhu, JAMA, The Journal of the American Medical Association, Nov 7, 2001 v286 i17 p2159
(5) Has Our Healthy Lifestyle Generated Eating Disorders?", Joel Yager, The Western Journal of Medicine, Dec 1992 v157 n6 p679(2)
(6) "The Eating Disorders NOS Diagnostic Profile Among College Women", Schwitzer, Rodriguez, Thomas, Salimi, Journal of American College Health, Jan 2001 v49 i4 p157
(7) "Fear Of Fat", Pediatrics For Parents, April 1989 v10 n4 p8(1)
(8-9) "Sub-Clinical Eating Disorders in Female Athletes", Beals, JOPERD – The Journal of Physical Education, Recreation and Dance, Sept 2000, v71 i7 p23
(10) "Dying To Be Thin", Leslie Vreeland, Good Housekeeping, March 1998 v226 n3 p137(3); Dr. Donald Durham, Ph.D.
(11) "Yo-Yo Dieting", Toni Luppino, American Fitness, Jul/Aug 1992 v10 n4 p60(1)