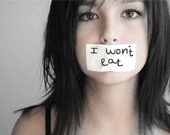 A person with anorexia nervosa is hungry, but he or she denies the hunger because of an irrational fear of gaining weight or becoming fat. Anorexia nervosa is often characterized by self-starvation, food preoccupation and rituals, compulsive exercising, a low body weight, and an absence of menstrual cycles. It can effect people of all ages, from children to older adults, although it most often begins in adolescence. Males account for an estimated 5-15% of people struggling with anorexia.
Untreated, anorexia can be fatal. It is not a "fad" which the victim will outgrow if left alone. The death of 70s pop singer Karen Carpenter at age 32 was attributed to heart failure, following her eight-year battle with anorexia — one of the first high profile cases. The most common cause of death in a long-time anorexic is low serum potassium, which can cause an irregular heartbeat.

Source: ANAD (National Association of Anorexia and Associated Disorders) www.anad.org
DSM-V Technical Criteria for Anorexia
Restriction of calories relative to requirements leading to a significant low body weight in the context of age, sex, development trajectory and physical health.
Intense fear of gaining weight or becoming fat, or persistent behavior that interferes with weight gain, even though at a significantly low weight.
Disturbance in the way in which one's body weight or shape is experienced, undue influence of body weight or shape on self-evaluation, or denial of the seriousness of the current low body weight.
Source: Diagnostic and Statistical Manual of Mental Disorders, 5th Edition, American Psychiatric Association
Signs and Symptoms
Physical symptoms of anorexia include thinning hair, dizziness/fainting spells, frequently feeling cold, brittle nails, stomach cramps and the development of fine hair (lanugo) on the body. Behaviors include dressing in layers to stay warm or hide weight loss, food rituals (e.g. eating in a rigid order or moving food around the plate), frequent comments about feeling "fat" despite losing weight, and cooking for others without feeding themselves. People with anorexia withdraw from friends, family and activities, becoming more secretive and isolated. They are preoccupied with food, calories, fat grams and dieting, and will often exercise compulsively, even when ill or injured. Some people with the disorder will also purge through laxatives or self-induced vomiting, and/or may even binge eat.
For a detailed list of warning signs, symptoms and health consequences of anorexia, visit NationalEatingDisorders.org.
Atypical Anorexia
You can't always tell by looking at someone that they are struggling with an eating disorder. A person with atypical anorexia will meet all the criteria for anorexia nervosa and exhibit many of the same signs and symptoms, but their weight is within or even above the normal range despite significant weight loss. Atypical anorexia falls under the category of "Other Specified Feeding or Eating Disorder" (OSFED).
What Do I Do Now?
If you meet the criteria for anorexia, it is crucial that you find someone to talk to immediately. Anorexia has the highest mortality rate of any mental disorder (meaning more people die from anorexia than from any other mental disorder). The more weight you lose and the less you eat, the less you are able to be reasonable about how you are living, and the more susceptible you are to allowing this disorder to take over and even end your life.
Next Steps
If you are seeking Christ-centered treatment, check out our Treatment Finder.
Check out our videos on this subject by searching by keyword "anorexia."
Seek community and support.
Consider taking one of our Lasting Freedom self-study courses (not a replacement for one-on-one care with a professional).
Read the Finding Treatment article on this site to get ideas about who to talk to.
Visit www.nationaleatingdisorders.org or www.aacc.net to search for a counselor, therapist or treatment center in your area.
Visit your primary care physician or ob/gyn and tell them exactly how you're eating/exercising/dieting.
If you are under eighteen, tell your parents or an adult you can trust about your fears of weight gain and/or obsession with thinness.
If you are a concerned parent or friend, please take these steps on their behalf. Also search "Helping Others" here on the site for resources to help you love them well.
We can't stress enough the importance of taking steps toward getting help. Your very life could be at risk, and it's important to get some objective help and advice. Please, take these steps now.
Have Hope
God is present in your situation, even if you don't sense Him there. Here are some of our favorite verses to encourage you right now…
"Surely there is a future, and your hope will not be cut off."  Prov. 23:18 (ESV)
"For freedom Christ has set us free; stand firm therefore and do not submit again to a yoke of slavery."  Gal. 5:1 (ESV)
"Let us then with confidence draw near to the throne of grace, that we may receive mercy and find grace to help us in time of need."  Heb. 4:16 (ESV)