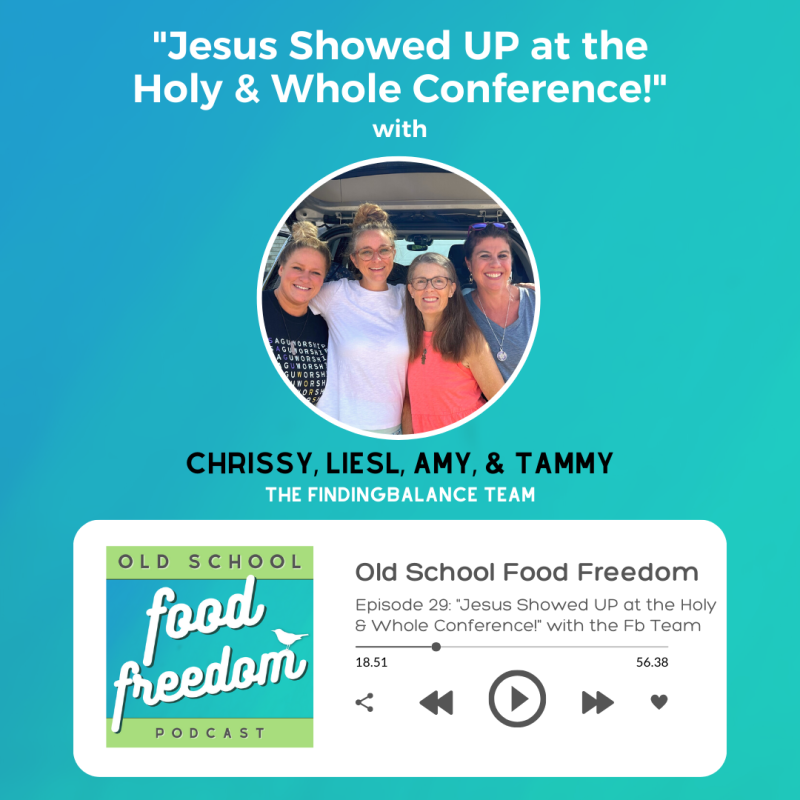 Oh this is a fun one, y'all! In this episode of the Old School Food Freedom podcast, host Chrissy Kirkman and her team share their transformative experiences from the 2023 Holy and Whole Women's Conference in Fort Worth, Texas. They discuss the powerful moments of worship, the freedom of chains breaking, and the genuine sense of community that emerged. The team also shares touching stories of connections made with attendees and the impact of the event, highlighting the importance of faith in the process of recovery from eating disorders and disordered eating. This episode captures the heartbeat of the FINDINGbalance mission to provide Christ-centered resources to those battling food and body image issues. Join us to hear heart-felt moments and plenty of laughs!
Many people are hurting and held captive by food and body image bondage. God is moving through FINDINGbalance to raise awareness of the massive sea of deception that is diet culture and make His truth for grace and freedom resound. #GivingTuesday is November 28, 2023. Will you join God in His work to illuminate truth that leads to freedom? You can make a difference by giving a one-time, tax-deductible gift or joining our Fb Giving Family as a monthly supporter. We can't do this alone. When you donate to FINDINGbalance, your gifts impact countless lives for a lifetime and we are grateful for your support!
In This Episode:
The FINDINGbalance Team:
Chrissy Kirkman, Executive Director
Amy Schaller, Outreach Coordinator
Liesl Dunlap, Bookkeeper & Board Treasurer
Tammy Boyd, Prayer Group Coordinator
Link: "No Chains" – KB ⁠https://bit.ly/3ZOE7qT⁠
LINKS + RESOURCES:
⁠⁠⁠⁠⁠⁠⁠⁠⁠⁠oldschoolfoodfreedom.com⁠⁠⁠⁠⁠⁠⁠⁠⁠⁠
⁠⁠⁠⁠⁠⁠⁠⁠⁠⁠Donate to FINDINGbalance⁠⁠⁠⁠⁠⁠⁠⁠⁠⁠
We love hearing from you! Email your questions/feedback to admin@findingbalance.com
_
FINDINGBALANCE:
_
CHRIST-CENTERED RESOURCES TO HELP YOU FIND FREEDOM
Eating Issues Test:
Not sure where you stand with eating issues? ⁠⁠⁠⁠⁠⁠⁠⁠⁠⁠Take a test⁠⁠⁠⁠⁠⁠⁠⁠⁠⁠
The Daily Vitamin eDevo:
A ⁠⁠⁠⁠⁠⁠⁠⁠⁠⁠free devotional⁠⁠⁠⁠⁠⁠⁠⁠⁠⁠ with bite-sized truth emailed 5 days a week
Community Groups:
Find connection with Bible study and prayer ⁠⁠⁠⁠⁠⁠⁠⁠⁠⁠groups⁠⁠⁠⁠⁠⁠⁠⁠⁠⁠
Digital Learning Library:
⁠⁠⁠⁠⁠⁠⁠⁠⁠⁠Library⁠⁠⁠⁠⁠⁠⁠⁠⁠⁠ of free videos, articles, recommended books, and expert Q&A
Christian Treatment Finder:
Connecting you with ⁠⁠⁠⁠⁠⁠⁠⁠⁠⁠Christian providers⁠⁠⁠⁠⁠⁠⁠⁠⁠⁠ experienced in treating eating issues.
Lasting Freedom Online Course:
A Christ-centered, non-diet ⁠⁠⁠⁠⁠⁠⁠⁠⁠⁠course⁠⁠⁠⁠⁠⁠⁠⁠⁠⁠ to work through false beliefs about food and weight so you can live free from disordered eating and body image issues.
_
CREDITS:
Intro music by "MokkaMusic" – ⁠⁠⁠⁠⁠⁠⁠⁠⁠⁠Old Jeans (Funk)⁠⁠⁠⁠⁠⁠⁠⁠⁠⁠
Interlude music by "Hotham" – ⁠⁠⁠⁠⁠Morning Thoughts⁠⁠⁠⁠⁠
Production & Editing by ⁠⁠⁠⁠⁠⁠⁠⁠⁠⁠Marketing With Wisdom⁠⁠⁠⁠⁠⁠⁠⁠⁠⁠
_
The content in this podcast is for informational purposes only and is not intended to diagnose, treat, or prescribe a particular course of action. If you have, or suspect you may have, an eating disorder, please consult your healthcare provider. If you desire to receive faith-based care, visit ChristianTreatmentFinder.com to browse professionals with a Kingdom campaign against eating disorders.