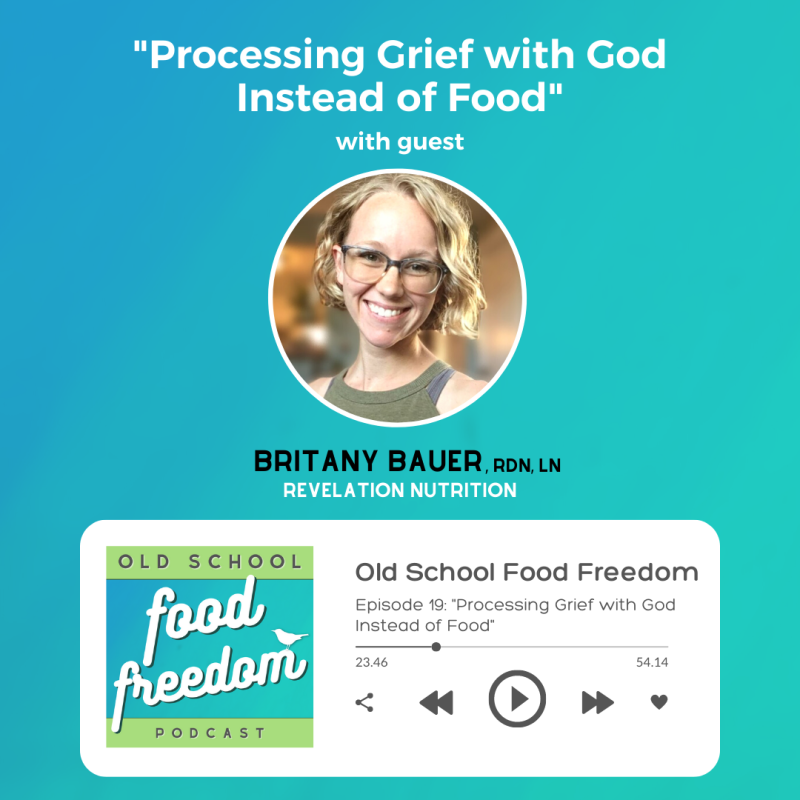 If you've ever turned to food instead of God for comfort, you're not alone. Join host and FINDINGbalance Executive Director, Chrissy Kirkman in her conversation with Brittany Bauer, RDN, LN as they explore the challenges of processing grief and trauma, overcoming triggers, and shifting focus towards positive experiences and memories instead of negative cycles.
With a strong emphasis on trusting God to walk with us on the path of healing, you'll gain insight and practical strategies for moving closer wholeness. Tune in to discover how to process grief, lean in to Jesus, and embrace your journey to freedom.
BONUS: You don't want to miss the EXCITING event announcement at the end of this episode! (Hint, we're really excited to meet YOU in person…)
LINKS + RESOURCES:
⁠⁠⁠⁠oldschoolfoodfreedom.com⁠⁠⁠⁠
⁠⁠⁠⁠Donate to FINDINGbalance⁠⁠⁠⁠
We love hearing from you! Email your questions/feedback to admin@findingbalance.com
_
Brittany Bauer RDN, LN
⁠Christian Treatment Finder Profile⁠
Holy & Whole Women's Conference 2023, Fort Worth, Texas
Mentioned in the episode:
Nicole Hope's Cultivating Sabbath Classes
_
SCRIPTURE REFERENCES:
Psalm 18 | Psalm 22 | Psalm 31:7-10
Psalm 34:15-18 | John 16:20 | 1 Samuel 1
Matthew 5:4 | Psalm 56:8 | Romans 8:18-39
Romans 12:15
_
FINDINGBALANCE:
_
CHRIST-CENTERED RESOURCES TO HELP YOU FIND FREEDOM:
Eating Issues Test:
Not sure where you stand with eating issues? ⁠⁠⁠⁠Take a test⁠⁠⁠⁠
The Daily Vitamin eDevo:
A ⁠⁠⁠⁠free devotional⁠⁠⁠⁠ with bite-sized truth emailed 5 days a week
Community Groups:
Find connection with Bible study and prayer ⁠⁠⁠⁠groups⁠⁠⁠⁠
Digital Learning Library:
⁠⁠⁠⁠Library⁠⁠⁠⁠ of free videos, articles, recommended books, and expert Q&A
Christian Treatment Finder:
Connecting you with ⁠⁠⁠⁠Christian providers⁠⁠⁠⁠ experienced in treating eating issues.
Lasting Freedom Online Course:
A Christ-centered, non-diet ⁠⁠⁠⁠course⁠⁠⁠⁠ to work through false beliefs about food and weight so you can live free from disordered eating and body image issues.
_
CREDITS:
Music by "MokkaMusic"; track: ⁠⁠⁠⁠Old Jeans (Funk)⁠⁠⁠⁠
Production & Editing by ⁠⁠⁠⁠Marketing With Wisdom⁠⁠⁠⁠
_
The content in this podcast is for informational purposes only and is not intended to diagnose, treat, or prescribe a particular course of action. If you or someone you care about is battling an eating disorder and is experiencing unmanageable thoughts or feelings, please call 911 (if in the U.S.), or visit your nearest emergency room.