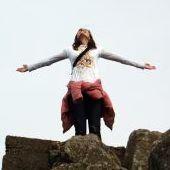 Since merging into a full life of freedom from anorexia, I've been honored to turn and shine a lantern over a hopeful path for several dear friends who are in the midst of their own battles with eating disorders. There have been a lot of boulders, bumps and storms lately.
Last week, one friend, I'll call her Janey, emailed me with a heavy heart. To paraphrase her letter, "My therapist told me yesterday that she doesn't think I'll ever fully recovery from this! She believes that I will struggle with my eating disorder for the rest of my life."
I imagined tears staining Janey's cheeks; her next words cut to the quick of my soul, "Abby, it just makes me feel so weary. I don't want to do this forever."
Prayerfully, I sat down to write her back, then stood, knowing I needed to let her words wind through my mind a little more; I needed time to hear from the Holy Spirit so that I didn't reply from my own strength and shallow wisdom. Later, I returned to send this email:
Janey, I'm not a professional, but I must respectfully disagree. I'll try to tell you my experience. I do not fight anymore. Perhaps everyone's definition of "fully recovered" is slightly different, but I believe I am fully recovered. My weight is healthy and I enjoy my life. I don't think about food or calories or exercise all the time anymore. I don't eat ice cream every day, or order pizza at every opportunity, but I'm free–comfortable with those things when need be and I'm happy with my body. 

Now, I will always struggle. I did not say I will always struggle with anorexia–but I will always struggle. When I'm in pain, it will usually remind me of "those days". That is my reference point, that is my history; it's not me today but it is part of my DNA, for lack of a better term. I am who I am today because I was molded in part through the refining fire of an eating disorder. My issues, my struggles, my choices and pain and future won't look just like someone's who battled postpartum depression, hypochondria, cutting or alcoholism.  I am in a battle every day–every day I chose to set my mind on Jesus. Every day, I am clothed in Spiritual armor. Every day, I know there is a prowling lion (the devil) who would love to devour me–but honestly, he doesn't care if he takes me down with anorexia or bitterness. 

I came across 2 Chronicles 20:17 in my quiet time the other day and I found such hope there: "You will not need to fight in this battle. Stand firm, hold your position, and see the salvation of the Lord on your behalf, O Judah and Jerusalem.' Do not be afraid and do not be dismayed. Tomorrow go out against them, and theLord will be with you."

I stand firm every single day, and I'm in the battle, but I'm not fighting. The battle has been won by my Champion, my Savior, The One True God.
RELATED:
Don't Give Up the Fight! by Julia D.
Letters: "Dear Parent" (A Letter of Hope) video resource
Lasting Freedom, online support group program