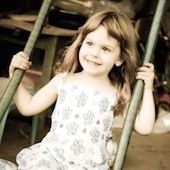 I sat on a swing at the park! As a little girl, I loved playing outside with anything that would allow my hair to blow in the wind. The little girl in me is alive and well today, and the swings were calling her name. Walking past the young mom while asking her to not mind little old me, I noticed the eyes of her toddler tracking me.
Soon enough, she asked her mom if she could do 'that' as she pointed to me. The next thing I knew, I had a sweet little partner who wanted to go faster and higher like 'her.' Of course, the Mom and Nana in me appreciated her princess sweatshirt, fringed boots, and innocent connection, but my internal emotional response caught me off guard. I was choked up, fighting back tears filling my eyes.
The little girl in me is still healing and sometimes needs a good cry. Childhood challenges left me with a tarnished tiara. My natural joy, curiosity, and expressiveness were limited by the need to behave, be good, and look just right. In order to be accepted and loved, I quickly learned to put my inner princess under lock and key. I dwelt in a dungeon of sadness, fear of rejection, and anger.
Ultimately, my pain surfaced and I sought counseling.
My King rescued me. He holds the key to our often self-inflicted dungeons of protection. Today, the Lord continues to restore my "princess-ness," opening some of the darker dungeons of my life. After all, I am His daughter. I know I was created by the King of Kings, knit together for a specific purpose with uniquely bestowed gifts. King David reminds us in Psalm 139:13, "For you formed my inward parts; you knitted me together in my mother's womb. I praise you, for I am fearfully and wonderfully made."
I've been happily wearing my tiara for quite a while now. It grows shinier with each passing day.
So, today at the park, I allowed the little girl in me to feel the loss and pain. I also celebrated the privilege of swinging with a fellow princess. All I have to do now is buy some fringed boots and a princess sweatshirt!
"It is difficult to make a man miserable while he feels worthy of himself and claims kindred to the great God who made him." ―Abraham Lincoln
RELATED:
Beauty and Happiness, a video resource
My Love/Hate Relationship with Confidence, by Kelsey Giles
Captivating, book by John and Stasi Eldredge