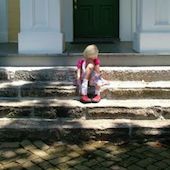 I remember it like yesterday, but I can't read his expression any better in my memory than I could 15 years ago.
It was somewhere between a mix of frustration, disappointment, reservation, compassion and confusion. We'd covered this ground so many times before, Granddad and I, and he was nearing the point of wondering if things would ever change.
Oh please, don't give up on me, my mind whispered, even as I held back the tears and held my ground—"I'm not going to eat chocolate ice-cream."
For all of my fifteen years, a visit to Granddad and Grandma's house had been synonymous with the frozen treat—preferably chocolate and served in a bowl pulled fresh from the freezer. But since anorexia had dug its deceptive claws into my mind, I refused to participate in this sacred tradition.
Looking up at Granddad that night, his unreadable expression branded my heart. I felt like a failure, a stubborn, unrepentant, rebellious failure.
Unlike many others in their battles against an eating disorder, I was blessed to have male authority figures who did their best to represent the Heavenly Father. They loved me, disciplined with gentleness and according to biblical principles. But they weren't perfect. For a time, I translated that pained expression from grandfather's face to my belief about God; it hindered my relationship with my perfect Heavenly Father.
In I Corinthians 1:9-10, Paul opens a letter of stern rebuke and uncompromising correction. As I studied those verses, I began to see the truth about how God corrects His children.
"To the church of God in Corinth, to those sanctified in Christ Jesus and called to be his holy people, together with all those everywhere who call on the name of our Lord Jesus Christ—their Lord and ours: Grace and peace to you from God our Father and the Lord Jesus Christ. I always thank my God for you because of his grace given you in Christ Jesus. For in him you have been enriched in every way—with all kinds of speech and with all knowledge—God thus confirming our testimony about Christ among you. Therefore you do not lack any spiritual gift as you eagerly wait for our Lord Jesus Christ to be revealed. He will also keep you firm to the end, so that you will be blameless on the day of our Lord Jesus Christ. God is faithful, who has called you into fellowship with his Son, Jesus Christ our Lord." (emphasis added)
The Corinthian church had a lot of problems. They were abusing the Lord's supper, and engaging in and tolerating sexual sin among other things. However, Paul begins the letter with: "Grace to you."
That's how God always addresses us, even in the middle of our failures and repeated mistakes. Even when we've sinned and broken His heart, God sees us as the righteousness of God in Christ, simply because we believe in the perfect sacrifice of His Son. Even when we need correction and training in righteousness, God always reminds us that He has given us grace in Jesus Christ, we are enriched in every way because of Jesus, God confirms that Jesus is within us and He will keep us firm to the end because He is faithful.
RELATED:
Healing the Father Wound, by Michelle Watson, Phd, LPC
Breakfast With Jesus, Abby Kelly
People Pleasing Devo, Pt. 2, Constance Rhodes