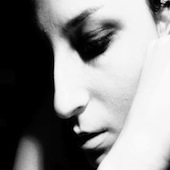 I was 8 years old when I got my first look at pornography.
I can't remember if I found it first or if it was my one-year-younger sister who showed me that with a bit of effort, we could climb onto an open drawer and up to the top shelf of my parents' closet where the stack of "picture books" were. And on stay-at-home days, if my mom was working and out of the house, and I was alone, this was a ritual, something I anticipated. This was the pattern until I was 19 and accepted the Lord.
At 8 years old, I had no idea what these feelings were going on physiologically when I looked at the pictures, but I did know that when I grew up, I would look just like those beautiful women, with large breasts and curvy hips and make-up and manicured nails.
Unfortunately, my body did not cooperate. I never liked high heels or girly dresses and I never filled a bra until I was pregnant. And that "asset" was short-lived…and quickly shrank after breastfeeding ended.
Through elementary school, junior high, and high school, I wanted to be beautiful and desirable like those picture book women; not petite, not "cute". Those pictures in my head screwed with my mind and my body image. I was disappointed each morning I put on my 32AA bra. To me, breasts made a woman a woman. In comparison, I was a boy, and at times, would spend long hours staring in the mirror, contemplating the discrepancies of my left and right facial features; one ear slightly higher, one eye a fraction smaller. I didn't see a feminine person, I thought I should have been born a boy. Looking back, it's scary. Do kids these days analyze themselves to that extent?
As my friends have given in to the "ideal", getting breast augmentation, I have passed on having it done. After 2 lumpectomies (including one where the doctor asked me to come back to see how the scar healed because he had never worked on someone with such small breasts!), and the fear of cancer, you begin to see that the size of your breasts doesn't make you more of a woman, it is the size of your heart that matters most.
I still have my moments of disillusionment, when I stand naked in front of a mirror or when I try to fit into a bathing suit top, but in general, I'm content now with what God gave me.  As I get older, those pictures in my mind have not faded, but the women in those pictures are less ideal and more a lie that Satan has tried to make me believe.
But the Lord said to Samuel, "Do not consider his appearance or his height, for I have rejected him. The Lord does not look at the things people look at. People look at the outward appearance, but the Lord looks at the heart." – 1 Samuel 16:7
RELATED:
Pornography puts Holes in the Covering, by Michelle Watson, PhD, LPC
Why Aren't Food Issues Talked About in Church, video resource
Understanding Body Types, Constance Rhodes