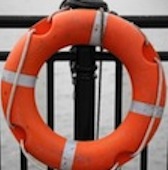 It has been a hard two weeks.
Today once more I found myself sitting on the kitchen floor in tears.
I was trying to make lunch, but instead the eating disorder voice was taking over.
As I sat and cried my mind jumped back to the last conversation I had with my therapist at Magnolia Creek when I was there last spring. As I was getting ready to leave, she told me this, "Bethany, remember: if you want to really live, it's not an option at home either".
Not an option.
I wiped my tears, took a deep breath, got up off the floor and repeated to myself, "Not an option." Skipping meals is not an option anymore.
It is coming up on one year since I left the safety of, "The Creek" (as I lovingly call it), but I can still remember that last conversation with my therapist like it was yesterday. She cannot have known that those three words would become my mantra in hard times.
It has not been an easy year. There have been good days when I enjoy life without the slightest thought about weight or calories. There have been bad days, when I find myself sitting on the kitchen floor crying. The one thing that has not wavered, however, is my commitment to recovery.
For so long I think I treated recovery as an optional thing that I would deal with "when I got around to it". I knew what I needed to do, but it just was not a priority. When I entered residential treatment, I no longer had the option to act on the eating disorder behaviors. I could no longer avoid meals. Forget using the bathroom alone, and for once I had to actually face my feelings. Doing the right thing in treatment was easy; I did not have another choice. Doing the right thing at home is harder.
It would have been extremely easy to do the wrong thing today. It would have been easier to just skip the meal and not deal with the feelings. But that is not an option anymore. Not if I want a life of freedom.
So I did the harder thing, I asked for help. Knowing that I needed some accountability and support, I Skyped a supportive friend to eat lunch with. It might be a bad day, but I do not have to face it alone.
Recovery sometimes means that I have to make the right choices, even when it's not the easy choice.
The Israelites wondered in the wilderness for 40 years. They were about to enter the Promised Land. But before they got there, God gave them a choice: Life or death.
"This day I call the heavens and the earth as witnesses against you that I have set before you life and death, blessings and curses. Now choose life, so that you and your children may live." Deuteronomy 30:19
God has given me a choice, too. I can make the right choices, and live. Or I can choose to go the other direction and be that much closer to death.
For me, it's not an option any more. The eating disorder might be what is easier, but I am going to choose life.
RELATED
Moving Toward Healthy Goals, Constance Rhodes
Hello, Goodbye, Mallory Hood
How to Help My Overweight Son, video