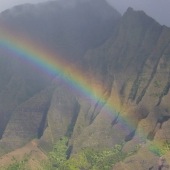 My life has been full of terrible misfortunes, most of which never happened. Michel de Montaigne
This might be more true of those of us who have struggled with eating disorders than anyone else. For many years, I couldn't escape the frantic prison of my mind.
Every morning questions pummeled my mind. What if it the weather is terrible and I can't go for a run? What if someone asks me out to lunch today? What if I miscounted the calories in dinner last night? What if…
Every evening, the barrage continued. What if that chicken wasn't really baked dry? What if my run wasn't long enough? What if I sat too much today?
Even as I began the slow climb through recovery toward health, I wondered. What if my therapist is wrong? What if my dietician sets my calories too high? What if I get terribly fat?
Moses asked similar questions when God called on him to lead the Israelites out of Egypt. Fear swelled in Moses' heart and he plied God with questions and excuses. What if the Egyptians won't let them go? What if the Israelites don't even believe me? What if I can't speak well enough? What if you just picked someone else?
As I am growing in freedom and exploring the wide blessings of health, God is teaching me that in Him there are no "if's", only "and's" and "but's". God's response to Moses was as straight forward and unequivocal as it could possibly be, "I AM".
Jesus left no ambiguity when he told the disciples, "I am with you to the end of the world." Matt. 28:20
There is no maybe in, "When you seek me you will find me when you search for me with all your heart." Jer. 29:13
There is no perhaps in God's promise through Isaiah, "I am the LORD your God, who teaches you what is best for you, who directs you in the way you should go." Is. 48:17
I take great comfort in the steadfast love and reliability of my God. In Him I don't have to ask, "What if…" about anything. He is always, "and," for there are no limits to His goodness.
"'Though the mountains be shaken and the hills be removed, yet my unfailing love for you will not be shaken nor my covenant of peace be removed,' says the LORD, who has compassion on you." Is. 54:10
"So do not fear, for I am with you; do not be dismayed, for I am your God. I will strengthen you and help you; I will uphold you with my righteous right hand." Is. 41:10
"But" is another thing I love about my Father. There is no uncertainty in Him. And it is in His constancy, His reliability, that I find my hope, my strength, my recovery.
"And you were dead in the trespasses and sins in which you once walked…But God, being rich in mercy, because of the great love with which he loved us, even when we were dead in our trespasses, made us alive together with Christ—by grace you have been saved—". Eph. 2:1, 4
 RELATED
A Pleasant Place, Abby Kelly
Relapses – Have I Let God Down? video
True-Faced: Trust God and Others with Who You Really Are, book