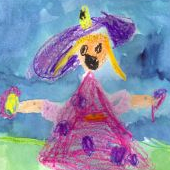 I remember reading that the first five years of a person's life determine what they become. This was a little concerning to me, because my first five years of life were a little topsy-turvy. And again these words echoed in my mind, as I watched my own daughter grow. Not only was I a young, single mum – I was juggling university, shift work, depression and an unhinged cat. Regularly, I tortured myself with guilt over the muddled-up nature of my daughter's first few years of life.
But did you know that we do not need to remain products of our pasts?
"Then I will make up to you for the years that the swarming locust has eaten" (Joel 2:25).
The locust is the most destructive insect in the world; devouring such quantities, that devastation is left in its wake. But God can and will restore the years that the locusts have eaten. The years that have been stolen from you; the destruction and devastation you've seen. Relationships can be restored and bridges can be rebuilt. But you will see in Joel, what God asks of us.
"Don't tear your clothing in your grief, but tear your hearts instead. Return to the LORD your God, for he is merciful and compassionate, slow to get angry and filled with unfailing love. He is eager to relent and not punish" (Joel 2:13).
"Return to the Lord your God." God is asking repentance. To repent – to change our mindsets and turn to Him with our whole hearts. To be truly sorry for (lets call it what it is) our sin. To recognize our need for Him, and choose to put our faith in our merciful, compassionate God; knowing that our debts were paid in full through Jesus's death and resurrection. To tear our clothing – an outward, superficial expression of grief – is not what is required. God wants our hearts.
So many of us have become defined by our experiences; whether it's things we've been through or mistakes that we've made. Our culture encourages us to be introspective, seeking counsel from those who teach us to place blame. To look for reasons, rather seeking to forgive. Behavior might be modified and thinking patterns altered; but true healing fails to occur. Our hope becomes misplaced.
But when our hope is in Christ, we become defined by who we are in Him. It is then that true healing can take place and we begin to discover who we were really supposed to be all along. The books might tell us how very important our childhoods are, but our God cannot be contained by psychology. He is eager to unleash restoration! Will you let Him?
"But those who hope in the LORD will renew their strength. They will soar on wings like eagles; they will run and not grow weary, they will walk and not be faint" (Isaiah 40:31).
RELATED
Healing the Fractured Self (Lee Blum)
The Love Jar (Jincy Gibson)