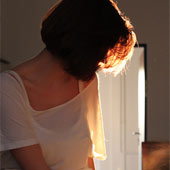 It's March 23, 2012. I am standing barefoot on the cold tiled floor of my bathroom. I say a silent prayer to thank God that my roommate and suitemates are not home to hear me crying. It's storming outside, as I hear another clap of thunder I think to myself that the storm going on outside does not come close to the one inside. My hands grip the edge of the cold sink as I lean forward to stare closer at the girl looking back at me in the mirror above it. I have no idea who she is. Her eyes are empty and hollow; all hope and life has left them. Who is this girl looking back at me with tears streaking her face? I no longer recognize myself. I crumble to the tiled floor, curl my knees up to my chest, and weep. "What have I become" I cry out "God, how did I get to this place again?" It's March 23, 2012 and I have no idea who I am.
That day was almost a year ago. That day was the day I finally decided that I wanted to recover.
In treatment, my therapist would ask me over and over the same question, "Who is Bethany?" She and I both knew that if I was going to break free of the eating disorder, I was going to have to learn who I was without it. You cannot just remove a destructive behavior without replacing it, which is what has tripped me up in the past, trying to remove the eating disorder but not knowing who to be without it. This past March, when I sat on the bathroom floor, I realized that the eating disorder had consumed every part of my life and become my identity. It changed the way that I related to those around me. It dictated my feelings and choices. It influenced so many aspects of my life that I did not even know what I did or did not like anymore. The eating disorder was an ever present voice in my head that dictated my every move.
So who is Bethany? She is a photographer and artist. She is a girl that loves to knit. She is a girl who watches a bit too much "Doctor Who," reads Harry Potter more than the average person and would rather spend her evening in a book than out on the town. She is a tender-hearted girl who loves her friends deeply and gets hurt easy. She is a girl that is still learning who she is and what she loves, and that's okay. Most importantly, however, she is a girl that is loved deeply by her King.
Over the last year, 1 John 3:1 has become one of my favorite scriptures. In The Message it reads, "What marvelous love the Father has extended to us! Just look at it—we're called children of God! That's who we really are." This verse tells me who I am. I am a daughter of God. A child of the most High. That is where I need to find my identity, not in a number on a box made of springs, metal and dials. I am not my eating disorder, and neither are you.
RELATED
Identity Theft – Don't Be a Victim (Mallory Hood)
Happy In My Anorexia (Video)
We Are the Bearers of Light (article: Travis Stewart, LPC)