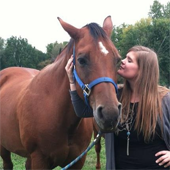 It happened within a week.
I was accepted and admitted to Selah House within just one single week.
Between the shock of realizing I was sick enough to die and the chaos of financial logistics, I didn't quite find the time to read all the fine print secrets kept between the pages of the tedious paperwork.
I transitioned from knowing very little about Selah House to handwriting it as my return address.
There were a few things I did know. I knew they would make me eat food. I knew I couldn't flush my own toilet for three months. I knew I'd have to go to endless group therapy sessions.
I also knew there would be horses.
What I didn't know was that they would infinitely change the way my mind thinks, the way my heart beats, the way my soul awakens; I could never have guessed that 1,000 pound animal would teach me how to speak again, how to be human again.
Day one in the barn was cold. I didn't know what to think about this "equine therapy" with a therapist who mirrored an impressive blend of Mark Twain and Einstein. His wife stood beside him with soft ocean eyes.
Twice a week I showed up. I pretended to hate "barn time" and said, "I can't", to every exercise the instructors suggested.
One morning in the barn, I gave my favorite horse a rub on the nose. Feeling the tickle of his breath on the palm of my hand, I felt peace.
I don't hate this, I thought to myself. I don't hate it at all. I feel safe here.
As I progressed in therapy, my confidence in the barn increased. I eventually learned I could move a half ton animal with just the tip of my finger. And for the first time in a decade, I felt capable and strong.
Horses are brilliant and intuitive creatures. They knew that I was strong before I had the strength to act strong. They knew I was capable before I was able to say, "I can." They waited patiently until I could agree with them.
For many reasons, horses have been essential to my recovery. Like us, they each have stories that demand to be told. One ex-racehorse named Clancy told me his story. He too had felt left out, discarded, unworthy. Our stories intertwined in so many places with familiar rejections, similar hurts.
It was Clancy who stood next to me as I realized how poisonous my childhood had been. I sobbed with my hands clenched around his neck, completely broken and aware of the pain I had experienced. He just stood there, unshakable and safe.
Something supernatural happened between us that December afternoon; together our spirits began to dance to a new harmony, one of hope. Our heartbeats pounded like drums to a melody only we could hear.
That's when I knew I was going to make it. I wasn't alone anymore.
I had a friend who was whispering to me, "You can do this."
And any horse lover can confirm there is one thing horses never do.
Horses never lie.
RELATED
What Is Equine Therapy? (video)
Life to the Full (Jincy Gibson)
Selah House – Vision, Photos and How They Help You Find Freedom (video: Misty Rees, BS, CEDS with Constance Rhodes)