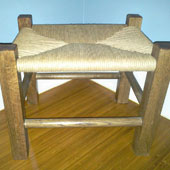 I made a beautiful wooden stool. I made the entire thing – from the beginning to the end. I went to Lowe's and picked out the wood. I decided how big it should be and how high off the floor the rungs should be. I cut the pieces on our table saw. I drilled the holes, routed the corners, sanded the wood and glued it together. I stained it and put polyurethane on it. I wove the top with brown fiber rush just like Grandpa had taught me.
It came out so amazing; it was just the way I wanted it to be. I was so pleased.
When it was all finished, I stood back and admired it. "Rich made a really nice stool," I thought.
I was so ready to give away the credit. Because it was beautiful, I reasoned I couldn't possibly have done it.
Then I thought, "No. Wait a second. Rich watched ME make it. I did it!"
***
Different people come to an eating disorder in different ways. I came to mine through a series of traumas. For 25 years I had berated my teenage self for not opening my mouth to end the abuse and ask for help. I didn't see all the reasons why I choose to keep things quiet. I simply called myself stupid for the choices I made without regard for the circumstances under which I made those choices.
After all, I was the Christian in this situation. I believed that all along I was somehow basically bad and he was somehow basically good and when all was said and done, God would hold me responsible because I didn't stop it.
When I looked at the stool and realized that the credit for the thing I made belonged to me, I felt God spoke to me. You did stop it – when you could. You did hide behind the door of the Sharon's office and tell her what happened. You did walk into his classroom and confront him, obtaining a written confession which you submitted for forensic analysis and which provided the concrete evidence required to remove him from his teaching position. You did go to the police station and give a deposition. You did go to the school superintendent to give the necessary statement. You did sit on the bottom bunk and tell your sister what happened so she would be safe at school. You did use your mouth, and your feet, and your hands to stop it. You did it, so you get the credit.
I had only spoken words of condemnation to myself, but God came to me and spoke words of approval. That made all the difference.
What could I possibly say back to God? In a contemplative prayer I collapsed in a heap of relief into the arms of the One who made me in the same way I had made the stool – from the beginning to the end and just the way He wanted me to be. God understood my confusion and he knows facing evil takes time. Even God did not redeem humanity instantly, but at the right time He sent His Son.
Yes, I wish I could have seen through his tricks sooner, or had enough safety or courage to say something sooner, but still, God was pleased.
I planned to sell the stool, but I opted to keep it instead. There it sits in the corner of my bedroom where every day it reminds me that God saw, He understood this complicated situation, and I acted rightly after all.
RELATED
Identity Theft – Don't Be a Victim (Who Are  You?)
Self-Monitoring in Recovery (Kari Anderson, MS, LPC)