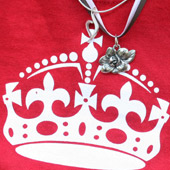 This past May, on a muggy Alabama day, I sat in a therapy room with my therapist and cried about going home. I had been in residential treatment for a month, insurance was discharging me, and I was not ready or happy about it.
"I can't do it!" I cried.
"But you have been doing it! You've been doing it for a month!" my therapist patiently reminded me.
"But here I don't have a choice," I protested. "I have to eat. I am not allowed to use behaviors."
She paused for a moment, and then said, "If you want to live, really live, you don't have a choice at home either."
Her words will never leave me.
The past four months have been challenging, but they have also been freeing. In the past four months, I have come to learn just how much truth was in her words. I remember sitting there, angry at her. She just doesn't get it, and it's not that easy. If I could CHOOSE to stop, I would have done so long before getting here…
What I have been learning, however, is that while I might not have chosen to struggle with an eating disorder, recovery is something I have to choose. I think I've always had this belief that treatment was the cure-all. That one goes to treatment and comes back healed with no struggles. What I've learned in the last four months, however, is that freedom doesn't just happen. It's something I choose every day.
When I choose to finish 100% of my meal plan, I'm choosing to walk in freedom. When I choose to take my medications as they are prescribed, I'm choosing to walk in freedom. When I choose to cope in healthier ways than the eating disorder, I'm choosing to walk in freedom.
When I choose to the "next right thing", when I decide to "do it afraid", when I choose life over death…. that is recovery and freedom!
I'm not saying it's been a perfect summer without any struggles, or that there haven't been days when the last thing in the world I wanted to do was eat 100% of my meal plan. There have been struggles; I've just chosen to do differently than what my eating disorder is screaming at me to do.
Freedom for me is something I chose every day.
I have to actively choose to do things differently. No more passive recovery for me. No more doing the same things I've always done and hoping things will change and get better. I have to choose to do differently.
At my graduation, I received a magnolia necklace (shown here). The staff member that led my graduation said to me what they say to all graduates: "Magnolias are known for their resilience and ability to endure adverse conditions."
Recovery is not easy; it's going to be challenging, but I'm going to learn to bloom in the adversity. I'm going to fight on. Because I want freedom, I want to live – really live – not just survive.
The Bible tells me that Jesus came to give me life to the full (John 10:10). God never meant for me to live in bondage to an eating disorder. So at least for today, I'm going to chose to walk toward Freedom.
"For the thief comes only to steal and kill and destroy; I have come that they may have life, and have it to the full." – John 10:10 (NIV)
 RELATED:
Choosing Freedom by Michelle Watson, PhD (Blog Post)
Freedom is a Beautiful Color by Alyee Willetts (Blog Post)
Finding Freedom at Selah House (Video)
Finding Treatment for Eating Issues (Article)