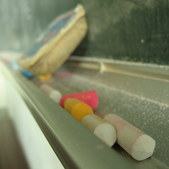 Sometimes I get down on myself for not having gone as far in my education as I "should have." Yes, there's still time, and yes, I likely will go back to school at some point in the future. But when I turned 35 last year, I got to thinking about all the hard lessons I had learned during my lifetime thus far – none of which I ever could have learned in a classroom or lecture hall.
Truly, the most important things I've learned have come from humbling mistakes, poor decisions, and by being "broken on the wheels of living" — and rebuilt, one lesson at a time. Line upon line, precept upon precept. I am far from graduation, but I am a lifelong-learner – and here is a sampling of the wisdom that has come so hard to me.
Top Ten Life Lessons I Learned by Age 35:
10) People who say they don't care what people think about them are usually saying that because they are desperate for people to think that they don't care what people think about them.
9) If you are worried about what others are thinking of you, you can relax–because they are probably too self-absorbed to be thinking about you anyway.
8) Everyone you meet and everyone you know is going through something. So don't be a jerk.
7) There is no such thing as the perfect church, so stop looking. And if you do find the perfect church, don't become a member or you'll mess it up. God can work with imperfection; in fact, we give Him no other choice.
6) When it comes right down to it, relationships–with others, with God, with ourselves–are all that matter in this life. Everything else is just details.
5) Never take life too seriously. No one gets out alive, anyway. Besides, if you are a Christ-follower, your life isn't even about you. It's about Him.
4) Never take yourself too seriously. Laughter can be lifesaving.
3) Smile at people. It shocks the heck outta most of 'em.
2) Take inventory of your blessings frequently. Anything and everything good that you have, embody, or experience came to you through God's hand. What if you woke up tomorrow with only those things that you thanked Him for today?
1) Prayer is the most powerful resource we have–and yet we usually resort to it last. That's kinda dumb.
(This post originally appeared as a note on Jena's Facebook Page, and we liked it so much we asked her if we could repost it here. We're glad she said yes, aren't you? – Fb Team)