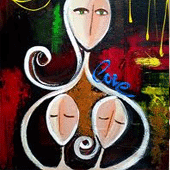 In many ways, I am glad I have boys.
I am worried I would mess up a girl. I am worried she would see me worrying and think she needed to worry too: about life, about God maybe not being as good as she hoped she was, about boys and school and everything in life that weighs a person down. And I'm worried these fears would make her try to hurt herself, for her not being able to save the world.
Yet boys are people too, and they have feelings and hearts and what it comes down to is this: I need to stop worrying, so I don't mess up my children.
I need to learn to trust God more and take myself more lightly. I need to learn to laugh at myself. To take that shame and fear and turn them into humility and hope.
And in some strange way, I think I need to think LESS of myself so I stop thinking I could ever save the world, and start thinking a whole heck of a lot MORE of God.
Less of me. More of Him. Less of me. More of Him.
This is my mantra this week. This is my mantra for life, and one of these days, I'll stop worrying about how much I worry, and I'll learn to just live.
This is a reprint from http://www.canvaschild.com/ by Emily Wierenga. Artwork also by Emily Wierenga. Used by permission.