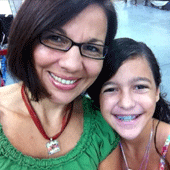 "You're so skinny." Three magic words I've always longed to hear…
Until they came from my daughter.
Today I don't struggle with disordered eating as I did a decade ago but there are still days when I choose to think things about myself that just aren't true. There are still moments when I let feelings and culture dictate what I think is attractive.
Several week ago I received catalogues from two very popular female oriented department stores. The models on the covers were very…willowy. My husband saw the catalogues sitting on the the kitchen counter and was immediately angry. "Kellie, the girls on those covers are way too thin. Why do women think that's attractive?"
My (defensive) answer? "I'm not looking at the women. I like the product: the clothing, the beautiful household items they sell."
He lovingly (yet firmly) looked at me long and hard, and I knew he wasn't buying it. Without using words, he was calling my bluff.
I wasn't being truthful. I knew he was right. Being "skinny" still holds a powerful attraction to this once disordered eater… I no longer have the energy or passion to wear skinniness anymore… but I'm still sometimes seduced by its call. And now, its slowly, deceitfully, almost innocently, calling my nine year old daughter.
I've always thought I was so good about keeping my issues contained around the kids. I don't talk about dieting, I don't weigh myself with them around, I try to be balanced in what we eat–not talking about certain foods being "good" or "bad". I exercise in moderation. I enjoy people and things around me. I am outwardly grateful for the body I have…
But, we're only as strong as our weakest link, and the catalogues on my counter told it all. If my daughter can't escape from the images that bombard our minds in the safety of her own home, where can she rest? The truth is, I look at those models and sometimes wish…
And my daughter? Well… she looks at me. Her statement that day rang an alarm from the depths of my soul that refuse to be silenced.
In that moment of truth, a deep place I hadn't realized was enslaved to the bondage of 'thin' was released. Awakened by truth, I felt like a tiger no longer chained; her cubs at risk. I threw the catalogues away, and wrote the company to stop them. I may not be able to stop all that stands in the face of my daughter and begs her to compare herself to an immeasurable standard, but I will take her hand and lead by example.
She may be called by pictures, by culture, by peer pressure, by fashion, by media, and all that "sets the standard."
But… she is watching me.