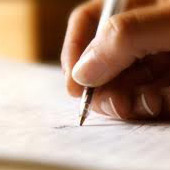 Since elementary school, I have written in a journal. Most of my journals document my recovery battle with my eating issues, but between bouts of confusion and doubt, I mention the simple, daily goings-on that God has chosen to let me experience and live out. Believe it or not, these little sections within my journals are my most precious pieces of writing. Now, I can read between the lines and learn that God was welding all of my experiences together to create what I call my beautiful (yet somewhat crazy) life.
Journaling can be a wonderful resource in our lives (and recovery) for three really good reasons…
First, writing down all of life's up's and down's keeps us in tune with our growing identities. Sometimes, it's hard for us to expose our thoughts and emotions to even our closest of companions and friends. And sometimes, it's hard for us to admit the truth about what we're scared of, or what we really want out of life. Journaling gives us an outlet to discover and explore the things about ourselves that we're scared to acknowledge. Once we spell it out on paper plainly and simply, it becomes official and valid, and by doing this, it becomes easier to deal with.
Secondly, journaling lets us remember. There's nothing like sitting down and remembering the events that marked a graduation, a wedding day, a birth. Likewise, reflecting on a milestone in the midst of our recovery journeys can help us get back on track if we hit a bump on the road, and those are bound to happen. Even through some of my darkest times, I can look back in my journals and see that some pretty amazing things happened within that period of time. Often, I'll read things that make me say, "Wow. I almost missed that. If I wouldn't have been so concerned with _______, I could've appreciated it more."  These instances humble us and help us realize that life is what's going on while we're sitting around planning on how to change everything and attempting to make our lives better.
Finally, and most importantly, how many of us have lain in bed at night with a thousand things on our minds, wondering how we will ever handle them all? When we write down our stresses, our rants, our worries, and our fears, we're laying them down and giving them to God; we're simply following through on our part of God's promise. He promised that we could rest our cares in Him, and doing just that can reassure us that God is listening and waiting to help us with each and every one of our problems. Psalms 55:22 says, Cast your burden upon the LORD, and he shall sustain you: he shall never permit the righteous to be moved. This verse proves that God will never leave us with something we can't handle if we give it all to Him.
I'm not always thorough with my journaling; sometimes I find myself going days, weeks, and sometimes even months without writing a single entry. But I always find myself going back, and I always pick up right where I left off. Even though our lives can take us all over the place–psychologically and physically–our journals are steady and true. They're always waiting to listen.
Related Articles & Videos:
Moving Toward Balance – Healthy Goals (article)