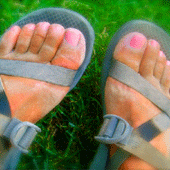 "Many are the plans in a man's heart but it is the LORD's purpose that prevails." (Psalm 19:21) I didn't plan for my feet to walk down such a dusty path; This walk I've walked is my story, my journey. God and dust have been my only constants.
In Matthew 10:14, Jesus tells his disciples, "If anyone will not welcome you or listen to your words, shake the dust off your feet when you leave." 
Historically, this was a visible portrait that meant the disciples thought the Jews were rejecting the true and real Messiah (Jesus).  I imagine this act and the message behind it was one of great sadness. The disciples knew the truth about Christ, yet the people they told were rejecting it. It's a broken love story. It's also relevant, to me, to now.
Most of my life I believed a false truthteller who told me, "You will never be worthy of love." And no matter how many of my loved ones told me it wasn't true, I rejected the truth over and over and over again. A parallel broken love story.
I wanted to believe them. Really, I did. But it is hard to believe and live out of a foreign truth, no matter how true it is. No matter how much hope it offers. It's excruciating and time consuming.
Healing for me has meant this cycle of exposing false truths and calling them what they really are – lies. In that, the Lord has offered me sweet grace, unending wisdom, and kind patience. Only recently have I been able to offer those things to myself. It is so worth it.
Every single day when I journal, I make a point to write 3 truths. Your heart needs truth from three different sources. It needs truth from God, truth from others, but it also needs truth from you. Yes, you. Your own heart needs to know that you are believe in its goodness.
Authentic truth is what sets us free, but sometimes we get there only by walking on a beat up, dusty road. Without knowing the feeling of being dust covered, my feet would not know to thank the air for the freedom it offers.