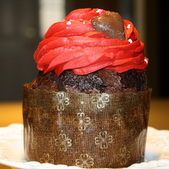 She has brain cancer, my mum. She once changed behind a closet door when Dad was in the room, and she now needed Dad to dress her. She sang off-key while he tenderly clothed her, and this daughter who used to peek through the crack and cry over the way Mum hid, this daughter now pulled up Mum's Depend's and brushed her hair as Mum told her over and over how beautiful she was.
Mum hung up a plaque in her kitchen that said, Life's short, eat dessert first, this woman who'd earned a degree in nutrition, this woman who'd never let us drink more than half a glass of orange juice for the extravagance.
And now, she sang and ate dessert first because she finally loved herself. She'd seen it all so clearly: she'd seen everything she had to lose, and when life becomes sacred, the reflection in one's mirror does, too.
For years I squinted at my reflection trying to believe I was beautifully and wonderfully made for the Bible tells me so, and then one day my mother got cancer and I suddenly believed, for she taught me, it's not how you see yourself. It's how you see life.
In the garden, the one where God pulled woman from man, the one where Maker and Made walked hand in hand, the one where flowers never lost their petals and the fruit hung lush and we knew no shame, in that garden, life was pure gift.
But we needed more. We stopped seeing the gift and started seeing what wasn't ours to have, and so gave up everything for that one thing, and now, every day, we wake up fighting the lie we bit into: the lie that says God doesn't love me.
And this is why women find it hard to love themselves.
But that's not the end of the story, and sometimes it takes brain cancer to learn what is. That we can take back what we had in the garden. That we don't need to hide in shame. That we can once again walk hand in hand with the Maker of the universe and discover that everything around us is, as Ann Voskamp says in One Thousand Gifts, grace. A hand-wrapped present from the Father of the heavens, and once we start believing this, then, and only then, can we look in the mirror and see someone who deserves that gift. Someone who is special, not just because her daily seeing tells her so.
"Pay attention to the present moment," Kathleen Dean Moore writes in Wild Comfort. "Every moment we are glad for the twilight of morning, we are not vexed. It is impossible to be at the same time grateful and spiteful. Breathe: sea-wind, kelp-brine, cold. Notice: fireweed, otter track, foxglove, fog, a face flickering in the fire."se the Bible tells her so, but because her daily seeing tells her so.
And so we beg, dear Lord, help us to see the gift that is life. Make our seeing one long prayer… make everything we do, everything we think, everything we hope for, be an extension of You. For I know that when it becomes this, as it did my Mum who, on days when she couldn't walk for the cancer, would dance, then we will begin to reclaim our womanhood. Then we will begin to walk in the garden unashamed. Then we will start to love ourselves fully.