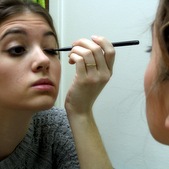 There really isn't much debate on the idea that low self-esteem in closely related to eating disorders. The Dove Self-Esteem Fund commissioned a study which found that Girls with low self-esteem are significantly more likely to engage in negative behaviors as evidenced such as as disordered eating, cutting, bullying, smoking, or drinking when feeling badly about themselves (Compared to 25% of girls with high self-esteem). And as a therapist working with eating disorders I have seen first hand the self-hatred and feelings of worthlessness that almost always accompany destructive behaviors.
What our culture, as well as many professionals, tell us is that the primary way to fix low self-esteem is with high self-esteem.
In order to overcome your eating and body image issues you need to be your own "best friend". That's how a speaker at a recent Eating Disorders Awareness event I attended put it. Her logic went something like this; her eating disorder developed because of rejection she experienced growing up. She overcame her eating disorder by learning to love herself, depending more on her own self-assessment and less on the approval of others.
While I am delighted that this speaker is experiencing freedom in the area of food and body image there are critical flaws in her logic.
First: the idea that becoming "your own best friend" is illogical. Friendship presupposes more than one person in a relationship.
Second: this idea is based on the premise that I can determine my value and worth, regardless of what others think. – that my view of my self is the most powerful agent for change available to me and that no one else has the right to determine my worth. However, if I have the right to determine my self-worth then I can choose to determine myself as worthless. It's a self-referencing system. You can tell me all day long to like myself but with no authority higher than you or me my evaluation of self is just as valid as yours.
In order to develop a healthy self-concept we must get out of the self-referencing system where my opinion of me or your opinion of me determines my value. What I need is an opinion that overrules human opinions. I need a Super-opinion that comes from God.
Finally, I've never met anyone who lives like this. Even the speaker at this event. In the course of her message she spoke several times of mentors in her life who had impacted her life. Despite the words she spoke about being her own best friend she had learned to find meaning through relationships with others and she was now dedicating her life to doing the same.
Treating yourself with grace and stopping the cycle of self-hatred is important but determining the value of self based on self is not only illogical but it leaves us alone a world where each of us has the right to determine what is valuable — and that is a dangerous world.
Note: This is the first of a series I am doing on self-esteem. Look for more soon.