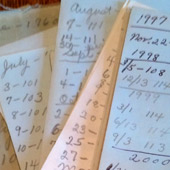 The small stack of papers was about 1/2″ thick, varying shapes, sizes, and colors. Some curled and tattered along their edges, brittle with age. Very simply held together with a clip.
"What's this?", my little brother asked, as we went through our mother's possessions, separating the keep, sell, and throw-aways. "That's mom's legacy and it's mine!" I told him.
I had hoped I would find these papers; that mom hadn't thrown them away after she became paralyzed 25 years before and could no longer stand on a scale. These papers that held such a fascination for me; the list of numbers that she wrote down through the years.
I had first seen them in her medicine cabinet when I was a young girl. I remember asking about them and being told she wrote down her weight. I knew from pictures that she was "bigger" in her high school years, but I always knew her to be small & petite.
This log of numbers began in March 1957 (how much earlier she had noted the numbers in her head, I will never know) and actually continued to the year 2000, 18 years after her paralysis. I try to imagine what may have been happening in 1957 that would have compelled her to begin this almost daily habit of writing her weight, sometimes with a note, "dressed", "naked", or "period"; she married my dad in November 1956, so she was still a newlywed, and she would not have me until 1959.
The significance of my mom's papers may be lost on my siblings, but I understand them, and their control, as I deal with my own disordered eating and body image issues.
As I continue my journey of recovery, I am learning to leave the control to my Savior Jesus. The numbers I prefer to record and remember are Psalm 18:2 and Galatians 5:1.
"The LORD is my rock, my fortress and my deliverer; my God is my rock, in whom I take refuge, my shield and the horn of my salvation, my stronghold" (Ps 18:2). I am reminded to reach for him and not food when I am in need of comfort, support, and protection.
"It is for freedom that Christ has set us free. Stand firm, then, and do not let yourselves be burdened again by a yoke of slavery" (Gal. 5:1). Christ has given me freedom from the bondage of my food issues by my simply turning to Him instead of the refrigerator. When I look to Him, I can stand strong on a firm base of support, not on the shaky balance of a scale with numbers that can change.
My God is unchanging, never wavers, and as long as I give my recovery to Him, I will be successful.
Related Article: A Healthy Diet for a Healthy Weight