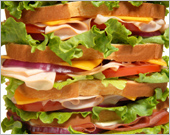 Binge eating is fairly new to the DSM-IV, and is still not fully recognized as its own disorder, often being lumped into the EDNOS category. While purging is not associated with this disorder, many of the frustrations that someone with BED faces are similar to those struggling with bulimia nervosa. Unwanted weight gain is often a symptom of the disorder. Many people live in a combination cycle of binging and starving, thus never quite meeting the criteria for anorexia nervosa but still doing serious damage to their physical and mental well-being.
DSM-IV Technical Criteria for Binge Eating Disorder
1. Recurrent episodes of binge eating. An episode of binge eating is characterized by both of the following:
– eating, in a discrete period of time (e.g., within any 2-hour period), an amount of food that is definitely larger than most people would eat during a similar period of time and similar circumstances
– a sense of lack of control over eating during the episode (e.g. a feeling that one cannot stop eating or control what or how much one is eating)
2. The binge eating episodes are associated with at least three of the following:
– Eating much more rapidly than normal
– Eating until feeling uncomfortably full
– Eating large amounts of food when not feeling physically hungry
– Eating alone because of being embarrassed by how much one is eating
– Feeling disgusted with oneself, depressed or very guilty after overeating
3. Marked distress regarding binge eating.
4. The binge eating occurs, on average, at least 2 days a week for 6 months.
5. The binge eating is not associated with the regular use of inappropriate compensatory behaviors (e.g., purging, fasting, excessive exercise) and does not occur exclusively during the course of anorexia nervosa or bulimia nervosa.
Source: Diagnostic and Statistical Manual of Mental Disorders DSM-IV, American Psychiatric Association
What Do I Do Now?
If you are struggling with binge eating, the first thing you need to know is you are not alone. Literally millions of people worldwide are struggling with this issue, which is why you'll find lots of videos about binge eating on our site.
Some articles you might also find helpful:
Read our articles "Overeating – Breaking the Cycle" and "False Beliefs: Overeating".
Next, we highly recommend finding someone to talk with about your issues. For information on what to look for when seeking a counselor or therapist, read "Finding Treatment." If you are interested in talking with a nutrition expert as well, check out our article on "Finding a Nutritionist."
Additionally, there are many good books focused on this problem. Some of the best we've found are "Overcoming Binge Eating" by Christopher Fairburn, and "Binge No More" by Joyce Nash. See these books and others in our Book Reviews.
Have Hope
If you are trapped in the binge eating cycle, you need to know that there is hope. There are many people who have successfully broken out of the cycle of binge eating and have learned to be more balanced in their eating. Remember – you were born free, and freedom is ultimately God's plan for your life. We encourage you to take whatever "next right step" you can to find that freedom.
"For freedom Christ has set us free…" Gal. 5:1 (ESV)