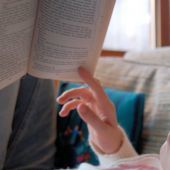 Today, one of my closest friends is having her first baby. New life, joy, babies, all things I love. And I've never been so happy for anyone to give birth.
My friend knows me. She knows my heart, she knows my struggles. She knows the long trail I've walked to get where I am and I know hers. She was the friend who gave me words that brought healing before I knew what healing looked like or that I needed it. Healing started by way of the gracious gift of a story. Her story.
She didn't know me then. But she knew I needed help before I would admit it and gave love to me in this hard place before I knew how to receive it.
We've been in each other's lives since that day, the day I heard her story, heard about her recovery and realized I needed that, too. The day I realized that my restrictive and disordered eating patterns had become a problem. I'd been living that in the dark too long — and I hate the dark — but finally, I began to come into the light.
There's power in that, she said. There's power in bringing things into the light.
Power, not shame.
Freedom, not bondage.
I didn't understand, but I listened. I listened to how freedom was true and lies were not.
Overtime I continued to listen to what truth had to say. I continued to push away lies.
And I finally had someone who had walked those steps before me, someone willing to walk them with me. Someone who reminded me that freedom was possible and God does heal, but also that the process would bring challenges, that there would be humps to go over.
Along the way, she also encouraged me to look at how far I'd come. I slowly began to notice change. Oddly enough, on days that were difficult, I was encouraged by the humps. Another day, another step to take. Another choice to be dependent on God in that. Another reminder that He does move, sometimes in big ways, often in small ways.
So I continued on the process of not giving up. Of holding on again and again to what was true. That God was right when He said that He would redeem my life from the pit. That abundant life was possible. Jesus continues to show me this.
Now, years later, I'm living a new story. But there are times I still leave gaps – I've trained myself to leave out parts that matter in my story. Parts I think are too complicated or if I'm honest, don't make me look good at all – the darkness and the pit.
The gaps have got to go, That's where my redemption lies.
Just as my friend once shared with me, there's power in even in the stories of dark times, as they trace back to the Light.
Power, not shame.
Freedom, not bondage.
RELATED:
You Are A Story, Michelle Watson, PhD, LPC
Recovering Anorexic, Wants to Write, Speak, video resource
Chasing Silhouettes: How to Help a Loved One Battling an Eating Disorder, book resource, Emily Wierenga