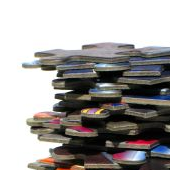 I love that the Lord speaks to me. And I love that He isn't put off by the fact that I'm still trying to believe how much He loves me and how intentional He was in creating me just the way I am. A couple days ago, during my quiet time, I wrote down what the Father whispered to my heart.
"Think of it this way, Beloved. Do you imagine that I am capable of creating anything beauty-less? If everything I made is exactly as I designed it, then how is anything less than intentional and perfect?"
Consider life as a puzzle. Like scattered pieces, you wonder about your sharp edges, unlovely angles, personality "flaws" and "imperfect" aspects of appearance. To create a perfect masterpiece, a colorful body of work, a landscape of design and beauty – to match the box lid, some pieces will be sharp or warped. Some will have bits of color and others will be drab and boring. Some will be straight and true, others curved. All of the pieces will be cut in some way. That is like sin.
Sin shattered perfection. My original design was divided and strewn. But I still know exactly what it is supposed to look like. Every piece, however ugly or misshaped is still essential. I made nothing extra or invaluable. Do you see that by trying to be something you are not, you cannot fit the place I intended for you? And no piece can fit another place. Temporarily, it might seem to fit, but soon it will be revealed that it doesn't work there.
So, no matter how scary or seemingly insignificant you believe your place is, it it vital. Remember how sad you were to finish a puzzle and discover that a piece was missing? And recall how nothing could be made to fill that void? Only one specific, perfect piece will fit that space. That, My Love, is you.
"I praise you because I am fearfully and wonderfully made; your works are wonderful, I know that full well" (Psalm 139:14).
RELATED
Happy In My Anorexia (Video)
Identity Theft – Don't Be a Victim (Mallory Hood)
I hereby resolve not to raise Bratz… (Eugene Hung)