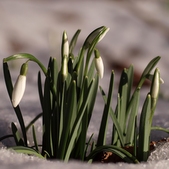 Nine months ago, rising from the comfort of my bed wasn't desirable. I didn't want to go anywhere. I didn't want to deal with anything. I didn't want to see anyone. I was miserable. I didn't have any mental stability and all hope for my life was seemingly lost. All of this came about because of my eating disorder. This thing, this deep, damaging thing, ruled all of my life.
Over the past year, however, my struggles with an eating disorder and all that accompanies that have taken my life from a state of shredded disarray to something different. Life today brings a sense of renewed togetherness, clarity, and hopefulness as I dance to the rhythms of each day.
As I sit here today, after having gone through a year of counseling, confidence building, and relearning of myself, I am learning what it means to live outside of the control of food and eating. I am more than this. Life has meaning beyond those two things. The Lord continues to heal me and renew all that has been broken in the past. I am not fully healed but I will get there one day. My life has a greater purpose…one that God created for my life and only my life.
If you are finding yourself in a time of struggle right now, just know that you will get out of it. You do not have to be defined as a girl (or guy) with an eating disorder for the rest of your life.
In the depths of an eating disorder, it is hard to see a future without it. For so many years, this was all that I knew and it became my sole identity. I never thought that I would be where I am today.
After I finally asked for help and began my healing process, however, I began to see that future clearer and clearer each and everyday.
You will get out. The Lord will heal you and make you new. Renewal will rise, as you seek it.
"…but they who wait for the LORD shall renew their strength; they shall mount up with wings like eagles; they shall run and not be weary; they shall walk and not faint." Isaiah 40:31 (ESV)
RELATED
My Recovery: A Picture of God's Grace (blog)
Nutrition after ED: Trying New Things (video)
Having a Hard Time Giving up Bingeing (ask our panel)