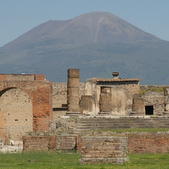 Recently my husband and I traveled to Europe where we had the privilege of seeing parts of Spain, Italy and France. One of the stops along the way was the Amalfi Coast and the city of Pompeii.
I remember learning about this famous city in grade school, about how its entire population was wiped out in one day due to the cataclysmic volcanic eruption that took place in 79AD. But nothing hits home like actually being there and seeing it with your own eyes.
While walking through the city, our tour guide took us to the home of one of the wealthiest families of Pompeii. The house was massive and beautifully ornate even after almost 2,000 years.
While making our way through its ruins, our tour guide told us the story of how the excavators had found the owner of the home. She was in her dining room, hunched over by the weight of all of the pearls and diamonds around her neck, with two large bags of money by her side.
In that moment I was struck by the irony of the situation, by this frozen-in-time image of a woman weighted down by earthly wealth and possessions. She had chosen these items over life itself, yet she couldn't even take a dime of it with her.
A lot of things in life are this way. Money, success, body image… none of them last. So why do we spend so much of our time chasing after things in this world when there's freedom found only in Christ?
Do not love the world or anything in the world. If anyone loves the world, love for the Father is not in them. For everything in the world—the lust of the flesh, the lust of the eyes, and the pride of life—comes not from the Father but from the world. The world and its desires pass away, but whoever does the will of God lives forever. – 1 John 2:15-17
RELATED:
Life After Treatment, Chapter 1 (blog post)
Let Go and Let God – Overused Approach? (video)
Water and Weight Loss (article)