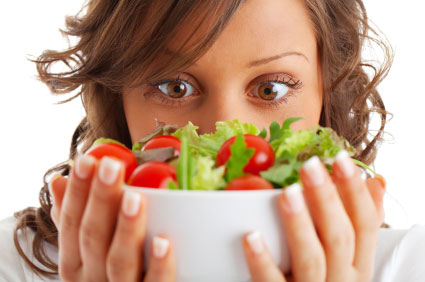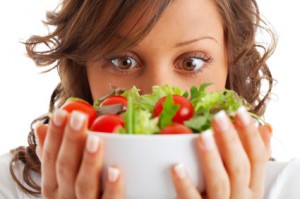 Dysfunctional eating has become so pervasive in America, that to many, it seems the norm. To make matters worse, we are bombarded with so many conflicting media messages about food and nutrition, it seems that even the so-called experts don't agree at times. But the bottom line is that there is no magic combination of foods that will give us the "perfect" body, stop the clock on aging, or provide the energy to "do it all." Healthy eating comes down to finding balance, and using common sense. So, just what IS healthy eating, anyway?
Healthy eating starts with the right attitude. First, let's remember that the purpose of food is to fuel and nourish the body. It is also for our enjoyment and pleasure. However, it is not meant to take center stage in our lives, consuming much of our thoughts and emotional energy. The goal is overall healthful eating, without having to obsess over every bite. It requires some planning and a little effort, but is not a complicated, exhausting process. With the right attitude, healthful eating becomes a way of life, not another diet to go on and off.
Healthy eating means establishing good habits. First, examine your eating patterns. Do you tend to eat erratically, often skipping meals? If so, you've learned that this only leads to extreme hunger and uncontrolled eating at the end of the day. The first good habit to set is eating three balanced meals a day, with nourishing snacks in between as needed. This keeps the body supplied with a steady source of fuel. In addition to regular eating, where and how we eat are equally important. Do you frequently find yourself wolfing down your dinner in the car, munching in front of the TV, or grabbing snacks as you stand at the refrigerator door? Try incorporating calmer eating practices, such as sitting at the table without distractions (including mobile devices), so you can enjoy your food.
Healthy eating means variety and moderation. This advice may sound boring, but the key to good health is eating something from all food groups, in moderation. Carbohydrates, proteins and fats ALL play important roles in maintaining a healthy body. Eating a variety of types of foods also ensures that we're supplying our bodies with all the necessary vitamins and minerals. Any diet plans that require eliminating lists of foods or whole groups are going to be lacking in certain nutrients, and are also not realistic in the long run.
Healthy eating requires listening to your body. This means to retrain our bodies to eat when we are hungry, and stop when we are comfortably full — neither denying ourselves of food nor overstuffing.
Healthy eating incorporates healthy choices. Without a doubt, fruits and vegetables are rich in phytochemicals which help fight heart disease, cancer, and premature aging. They are also power-packed with nutrients. A diet rich in fruits, vegetables, beans, and whole grains is both nutritious and satisfying.
Healthy eating includes some treat foods. That's right — a healthy eating lifestyle includes incorporating your favorite not-as-nourishing foods, in small amounts on an occasional basis. For some, that might mean enjoying a small slice of pie on Friday night or munching on a handful of Doritos with lunch on Mondays or savoring a bite of dark chocolate every day. As long as you are making nutritious choices most of the time, it's fine to build in some fun treats.
Healthy eating means putting food in its place. Isn't it amazing that food, which is not even alive, can wield so much power in our lives? We comfort, medicate, celebrate, entertain, procrastinate and companion ourselves with food. Instead, we need to find healthy alternatives to meet our emotional needs, manage stress, and enrich our lives.
Healthy eating results in good health. With a goal of eating well for a healthy body, we are freed from the restrictive mindset that dieting fosters. Combined with an active lifestyle, weight will settle at what is healthiest for our own individual body types. With proper nourishment and adequate fuel, we have more energy, think more clearly and function more efficiently.
With healthy eating, we are free to experience the joys and blessings of life.