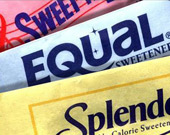 All of us seem to have a natural desire for sugary foods, but some people have an especially strong sweet tooth, which can translate into too many desserts and unhealthy weight gain. As a result, millions of Americans have been trying to eat fewer calories by cutting back on sugars and replacing them with low-calorie or even calorie-free sweeteners. In the past few years alone, the selection of foods and beverages containing sugar substitutes has expanded considerably.
With so many choices in the grocery aisles these days, people often find themselves confused. Will these sweeteners help to lose weight? Are they safe? Do they have side effects? Which ones are artificial and which ones are natural? Do they even taste good? Unfortunately, the answers aren't always clear-cut, but here are some things to consider…
Using sugar substitutes doesn't necessarily result in weight loss.

First, even though they contain few to no calories, there's no direct evidence that sugar substitutes promote weight loss. As a matter of fact, as consumption of these sweeteners has steadily increased over the years, Americans have been getting heavier. This, however, may be due to other unrelated changes during that same time period, such as bigger portions and lack of exercise. Or, it could be that people feel entitled to splurge on other things after consuming diet foods and beverages, because they feel they have "saved the calories." Also, "sugar-free" doesn't always mean calorie-free, so people can still take in too many calories if they overeat diet cookies or the like.
There is another concern regarding the connection between sugar substitutes and body weight. It's possible that consuming a lot of non-caloric sweeteners may confuse the body's ability to regulate hunger and fullness (satiety). When you think about it, you are feeding the body something that registers as tasting sweet, but isn't processed like sugar. A scientific review of research indicates that appetite may actually be heightened in some situations from consuming calorie-free beverages. In theory, consuming products with sugar substitutes could ultimately make it harder for true fullness to register, so they could cause overeating in the long run.
Here is a summary of some of the non-caloric and low-calorie sweeteners:
Sucralose (Splenda)
Sucralose is the only noncaloric sweetener made from sugar (it contains only a small fraction of a calorie). It is 600 times sweeter than regular sugar, but can be directly substituted in cooking and baking. It is promoted as a "natural" product, but it is actually a synthetic compound produced by chemical processing of the sugar molecule (chlorination), which passes undigested through the body.
Aspartame (NutraSweet, Equal, Sugar Twin)
Aspartame is a combination of two amino acids (protein components) called aspartic acid and phenylalanine, plus methyl alcohol. It is 160-220 times sweeter than sugar, but contains almost no calories. It cannot be used in cooking. Although there are stories circulating about bad effects from consuming aspartame, there is no scientific data to back up these claims. It has been used widely for over 20 years, and the American Medical Association, World Health Organization, and FDA have concluded that it is safe in moderate amounts. People with a rare disorder called phenylketonuria (PKU) are warned, however, not to consume aspartame, because they cannot metabolize the phenylalanine. They must also avoid any protein foods containing this amino acid.
Saccharin (Sweet Twin, Sweet 'N Low, Necta Sweet)
Back in 1977, saccharin (chemically known as benzosulfimide) was banned because some studies linked huge doses of it to bladder cancer in rats. Since then, further research has indicated that this is not a risk for humans, as concluded by both the National Cancer Institute and the FDA. Saccharin is 200-700 times sweeter than sugar and contains no calories.
Acesulfame K (Sweet One, Sunett)
This sugar substitute is actually a potassium salt, which stimulates the tongue's sweetness receptors. The FDA approved its general use in 2003, stating that its safety was supported by more than 90 studies. It is 200 times sweeter than sugar.
Stevia (Truvia, PureVia, SweetLeaf, Enliten)
Steviol glucosides are derived from the leaves of Stevia rebaudiana Bertoni, a plant in South America more commonly known as Stevia. It was initially marketed as a natural dietary supplement. Reb A or Rebiana, which is used in Truvia and PureVia, is actually a highly refined derivative of the sweetest, purist part of the stevia leaf. It is 200-300 times sweeter than sugar and has an aftertaste like licorice, but is calorie-free. The FDA approved Reb A for use as a sweetener in 2009. Whole-leaf stevia and crude stevia extracts are not approved for use as a food additive, but are sold as dietary supplements. Some researchers believe there is not enough reliable data concerning the safety of stevia during pregnancy and breastfeeding. Also, since the plant is in the ragweed family, there is the potential for an allergic reaction in some people. Lastly, the components of stevia may lower blood sugar and/or blood pressure, so those with diabetes and other medical conditions should be mindful.
Neotame (Newtame)
This product has been FDA approved since 2002, and is a whopping 7,000-13,000 times sweeter than table sugar. It stays sweet even under high heat such as baking. Although it is chemically similar to aspartame, it is broken down differently in the digestive tract, so will not carry the PKU warning. Neotame was developed by the same company that manufactures NutraSweet.
Avantame
Avantame received FDA approval in 2014. It is an amazing 20,000 times sweeter than table sugar and is also very heat stable, making it suitable as a sugar substitute in baked goods.
Luo Han Guo Fruit Extracts (Swingle, SGFE, PureLo, Monk Fruit in the Raw)
Mogrosides are the non-nutritive constituents of Siraitia grosvenorii Swingle fruit extract (SGFE). Depending on the mogroside content, SGFE is reported to be 100-250 times sweeter than table sugar. More commonly known as Luo Han Guo or monk fruit, this plant is a native of Southern China.
Polyols, also known as "Sugar Alcohols" (Xylitol, Sorbitol, Mannitol, Erythritol, lactitol, isomalt, maltitol, hydrogenated starch hydrolysates (HSH), and D-tagatose)
These are all low-calorie sweeteners — not calorie-free. They possess up to 92% the sweetness of sugar, yet with half to one-third less calories. Although they are referred to as sugar alcohols, they are not made from alcoholic beverages; they are derived from plant sources, including assorted fruits, vegetables and seaweed. Since they are absorbed slowly and incompletely by the intestines, people can experience some gas, bloating or even diarrhea from these products.
Most sugar substitutes are considered safe to use, but some questions linger.

All of the above sweeteners are marketed with FDA approval. But many experts would still like to see more research — especially long-term studies — since their popularity has increased and people are consuming them in a greater number of products at younger and younger ages. In addition, some researchers would like to see studies done on how the different sugar substitutes interact with each other, particularly when routinely eaten in larger quantities. Although considered safe if used in reasonable amounts, many people feel uneasy about using sugar substitutes, and even some scientists have a few reservations. Additionally, some people report sensitivity to some of these products, with symptoms such as headaches and upset stomach, while others just plain don't like their taste.
Other Options

For those who are looking for alternatives to sugar substitutes, there are other options. Regular table sugar contains 15 calories per teaspoon. Some people would prefer to have the real thing, such as a small amount every day or perhaps a moderate amount of dessert a limited number of times per week. In addition, although it can be hard at first, taste buds can be retrained to enjoy the taste of less sweetened products–such as tea with lemon, flavored waters in place of sodas, and naturally sweetened fruits instead of desserts on a daily basis.
It really comes down to personal choice and preference.