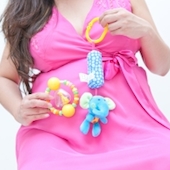 For someone with a history of eating disorders, there are two ways to view pregnancy: It is either completely terrifying, or incredibly liberating.
When I was a teenager, anorexia stole my dreams of having biological children. I was told by my doctor that I would never be able to conceive or carry a child unless I did something to reach better health. While my life didn't change overnight after that conversation, my doctor's words were always in the back of my mind and a motivation to recover. Thankfully, over the course of about ten years, I was able to scratch and claw my way out of anorexia and subsequent patterns of disordered eating with God's strength and a lot of hard work.
For me, pregnancy was a recovery goal that didn't come to fruition as easily as I had imagined. My husband and I experienced three and a half years of infertility struggles that were mostly unrelated to my eating disorder. After experiencing different stages of grief, I was able to focus on the blessings in my life and think about reaching out to help hurting children. My goal changed to being a healthy mom of three beautiful young foster daughters. Then, six months later, we received the shock of our lives when we found out we were pregnant without the aid of any infertility treatment! Doctors had given us some dim diagnoses, but God performed a miracle.
When I was still struggling with disordered eating, I wanted with all my heart to bear a child someday, but at the same time, I was also terrified at the thought of pregnancy weight. I didn't know how I could ever be truly happy about a growing body. I can remember resolving that if I did get pregnant, I would gain X amount of pounds, only eat "good" (aka "safe") foods, and exercise hard every day. Looking back, I can see that my thought process revealed the amount of emotional turmoil surrounding the loss of control over my body. I was terrified.
Now as a woman living in recovery, I see pregnancy as liberating. The nausea that I experienced 24/7 during my first trimester helped me understand the importance of being in-tune with hunger signals. The nausea was always there, but if I got very hungry, it was almost unbearable. I learned how to decipher hunger cues incredibly well. Now in my second trimester, I've been amazed at how my body works. I naturally crave wholesome foods, and as I respond and nourish my body, our little baby boy grows each week. People around me have started to say things about the size of my stomach, but I've learned to just smile and respond with, "Thank you." Each time a comment is made, or I see the roundness of my stomach in a mirror, I am reminded to thank God for both the miracle of recovery and the miracle of the child inside of me.
RELATED:
Great Expectations, by Mallory Hood
Healthy Pregnancy and ED's, video resource
Heaviness and Weight Gain–Explained…, article by Constance Rhodes