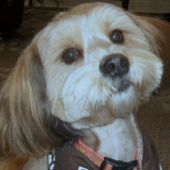 My dog Brave and I volunteer at a nursing home with an organization called Pet Partners. He has an uncanny way of making even the sternest face brighten. Frustrated, puckered expressions relax when he wags his tail like a dust mop over a patient's knees. I love to watch wrinkled hands cup his furry face and touch noses with him. Brave, like many dogs spreads life like a contagious, happy disease.
Just last week, an elderly woman asked me if I really intended to keep Brave. She said it wasn't fair, because she needed him. Laughing, I told her, yes, I plan on keeping him, then pulled my beloved puppy into my chest. She has no idea how much I need him. In more than one way, he saved my life.
One of the reasons that Brave and I got involved in pet therapy visits is because of the role Brave played in my recovery from anorexia. I had been a compulsive, long distance runner for several years and despite the advice of counselors and nutritionists, I felt physically unable to relinquish the addiction.
Lies rambled nonstop through my head, "If you don't run as many miles as you did last week, you'll be fat by the time you wake up tomorrow."
When I got Brave, he was only five pounds; there was no way he could manage to keep up on my runs. But he did need exercise and I felt magnetically drawn to spend every spare minute with this little bundle of life. Almost over night, and almost unintentionally, I reduced my runs to leisurely walks. And guess what? I didn't get fat!
By the time Brave came to live with me, I'd been in and out of vicious battles with anorexia for fifteen years. My family and my husband were tired, exhausted from the strain of worry and frustrated by their inability to help me get well.
I'm walking in health now, but I still struggle sometimes. And to this day, Brave never tires of my occasional tears or a lingering irrational fear of food.
One of the most surprising ways that Brave has helped me recover is simply in the fact that I have to feed him. At first I was paranoid that I might feed him too much. I hated the thought of owning a fat dog. Suddenly, I realized I was projecting my own fear onto my dog and I could see with clarity that going hungry could hurt him, even kill him, something I had a hard time believing about myself.
More than once, as dogs will do, Brave has found his way into the cat food or a patient at the nursing home has given him her whole lunch. On those days, his little sides are distended, but he seems unaffected by the momentary experience of fulness. Within a day, his stomach recedes to its normal boundaries and his happy life goes on. To think that being full is not the end of the world!
I've taken so many lessons from my four-legged friend. Yes, I'm thrilled to share his encouragement with others, but I'm fully aware of the gift God has given me in this little dog. I'm grateful, and I intend to keep him.
RELATED:
Life Lessons from Callie, by Gina Paris
Moving Toward Balance, Healthy Goals
Managing Depression, video resource