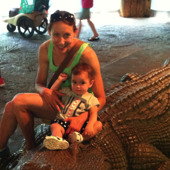 "Your belief determines your action and your action determines your results, but first you have to believe." Mark Victor Hansen
If I'm really honest, for much of my life, my actions indicated a belief system that I'm loathe to admit. During the years I battled anorexia, my behavior proved that I believed if I were thin, if I were the most athletic, if I had the most willpower to resist food, if I had the perfect body, then I would be happy. On the other side of those painful years, I can confess to you – I had it all wrong.
I just returned from a two week visit with my family. The first seven days were spent with my in-laws. Mike and Julie are vivacious people, ravenous for the joys of life and abundantly generous with all their blessings.
Within hours of our arrival, they took us out to lunch. For the duration of the week, we feasted on gourmet coffee, ice cream, homemade dinners and market fresh veggies. We dined on the patio, in the living room, in front of the television and at favorite restaurants.
My in-laws bear the mark of the truly happy. Their faces are ruddy and sun-kissed. Their arms are well employed. Both Mike and Julie are genuinely healthy, brimming with life.
I had it all wrong. Having the perfect body doesn't make one happy. Finding joy in Christ, in relationships, seeking and exploiting the pleasures of life, leads to a healthy, happy body.
For the second half of our trip, my husband and I visited my sisters, their husbands and my one-year-old niece in Texas. Toting Kylie around, waking her in the morning, cuddling with her on the floor and chasing her around the living room obstacles brought me unsurpassed joy. But what fascinated me the most was her insatiable interest in everything I ate.
"Bite, bite!" She pleaded. No matter what was in my hand or where I was eating, she found me and asked, "Try, try?"
In the course of my visit, Kylie and I shared protein shakes, hotdogs, frozen yogurt, iced tea, juice, chocolate bars, jicama, pretzels, cheese, apples, oatmeal and more. Never once did  she pause before devouring a treat and wonder, "How will this affect my body? Will it make me fat? Did I exercise enough today?"
I was also mesmerized by Kylie's pleasure with her own body. She was pleased that her fingers can grasp my hand, thrilled that her arms can fully encircle my neck. Kylie was so happy that she is finally long enough to reach the doorknobs and all of the cans in her mother's pantry.
I had it all wrong. A perfect body will never bring me lasting happiness. But happiness, contentment with the good gift of life that God has given me, that will ultimately result in the body that God perfectly, uniquely created for me.
"Your belief determines your action and your action determines your results, but first you have to believe." Proverbs 17:22
RELATED
Summer Body Image Anxiety, by Gina Paris
The Body Image Workbook, resource
A New Life (My Son is Here), by Christy Gualitieri