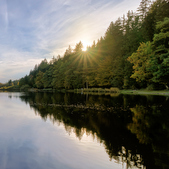 The Lord is my shepherd, I shall not want.
Because God takes care of me, I lack nothing: not forgiveness, not justice, not love, not food.
He makes me lie down in green pastures.
He knows how to nourish the whole Elisabeth. I am content.
He leads me beside quiet waters.
He leads me to just the right place where my needs are met.
He restores my soul.
He brings life to the very deepest parts of me.
He guides me in paths of righteousness for his name's sake.
So everyone can know what kind of God he is, he helps me make wise choices. Choices about how I spend my money and how I use my time and about how I organize my home and about my work in the lab. Choices about food and exercise. Choices about how best to take care of my husband and my children. Choices about what to watch and what to read and what to listen to and what to think about, and what NOT to watch and read and listen to or think about. Choices about when to speak and what to say and when to hold my peace and a whole host of other things.
Even though I walk through the valley of the shadow of death,
Even though my Dad abandoned me to the care of my Mom who has a mental illness. Even though Mr. B. spent three years molesting me. Even though I was cold and hungry and alone. Even though Timothy died and all the world feels unsafe, I am not afraid.
I fear no evil for you are with me.
People who behave in evil ways and difficult situations do not scare me because you are with me.
Your rod and Your staff, they comfort me.
Your discipline and your constant protection make me feel safe.
You prepare a table before me in the presence of my enemies.
You go to great lengths as you work in my life and so that I may know peace and joy.
You have anointed my head with oil.
Your Spirit frees me from the frustrations and temptations that creep into my life.
My cup overflows.
You have given me more good gifts than I can fully grasp. With two hands I carefully hold the cup you have filled up for me. But you filled it so full that it sloshes over the side when I carry it back to my place at your table! I cannot prevent it from spilling!
Surely goodness and lovingkindness will follow me all the days of my life,
You chase me every day with good gifts and love. You chased me on special days like the one when I married Rich, and the days I first held each of my children. You chased me on crummy days when I was exhausted and lost my temper and forgot to eat. You chased me on the ordinary days where the routine of life was all that seemed to exist. And you chase me right now – in this day. This very one. This exact day is one of the days I spend in your presence.
And I will dwell in the house of the Lord forever.
And I will always exist in God's care.
RELATED
Dissonance in Life, by Kellie Avery
Fingerprints of God, by Eugene Hung
More Than a Number, by Constance Rhodes