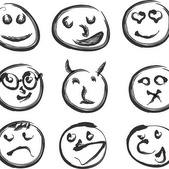 Today, I FEEL heavy and out of shape. My first temptation was to bypass breakfast and head to the gym, even though I have committed this Sabbath day to physical rest. I FEEL vulnerable and frightened. I FEEL frustrated that after years in recovery, I still FEEL this way sometimes.
Nothing has changed since yesterday. Saturday was sunny and fall began its farewell to summer. Autumn has taken over the temperature, the length of days and the color of trees. Yesterday, I took a long dog walk and did 30 minutes of yoga in my basement. For the remainder of the day I felt powerful and strong. I felt beautiful, focused and free.
This morning, I woke to cloudy skies, incessant drizzle and chilling temperatures. The sunshine hasn't winked once. My dog and I barely snuck in a walk around the block before blue-cold rain chased us inside. FEELing lazy and claustrophobic, I walked past my home gym, and several times I nearly gave in, went downstairs and put in a workout DVD. Surely, a good sweat would make FEEL productive and in control.
Over the voice of my internal fears, I heard God answer me through a line from my favorite Christmas movie. In response to a visiting ghost bringing life-altering news, a disbelieving Scrooge declares that his senses are not trustworthy, "…a little thing affects them. A slight disorder of the stomach makes them cheat. You may be an undigested bit of beef, a blot of mustard, a crumb of cheese, a fragment of an underdone potato. There's more of gravy than of grave about you, whatever you are!"
My FEELings are just as flaky as the weather. A crisp, sunny fall day evokes FEELings of delight, peace, energy and anticipation. One rainy day, or a string of them, lures me into the doldrums and sluggishness. One day without exercise and sometimes my FEELings tell me I am lazy, unproductive and getting fatter by the minute.
FEELings follow actions in every way. When I first began recovery from my eating disorder, I was given a specific meal plan and limitations on my exercise. After weeks of dutiful, painful obedience my FEELings of trust toward my treatment team began to change. At first when I quit compulsively exercising, I felt like I was going to die. Then, slowly my panicky FEELings of what might happen were proved wrong.
I will make it through today despite my FEELings. I will submit to the truth and remain steadfast to my commitment to serve Christ alone, not my flaky FEELings which are subject to the whims of an eating disorder.
"He who trusts in his own heart is a fool, But whoever walks wisely will be delivered." Proverbs 28:26
RELATED:
Want to Change but Overwhelmed by Emotions (video – Scott Reall)
False Beliefs: Overeating (article – Ann Capper, RD, CDN)
False Beliefs: Restricting (article – Ann Capper, RD, CDN)