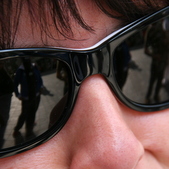 She doesn't see what I see. In fact, she doesn't see at all, at least not in the literal sense of the verb "to see."
She doesn't see the leaves change color in the Fall or the squirrels racing up and down trees in their own version of the mini-marathon. Her physical eyes don't work, but in a sense, she doesn't need them to "see" things that truly matter. And that is what she has been so faithfully teaching me without even knowing; to see what actually matters.
I'm talking about a close friend of mine. She is blind. She's never seen my face. She's never seen my body. Yet she loves me. Her love is not and cannot be based on what I look like.
And while I've lived most of my life believing that thinness and love are intertwined, my friend has simply loved people for being people. My eyes awake and judge. Her eyes awake and love.
Maybe that seems simple to you. But to me, it has been a lesson of the heart. My friend's disability is actually a beautiful ability to see past the shallow. She dives deep into the hearts of humans, never noticing or caring if they are thin, short, tall, plus-sized. It doesn't matter to her. In a way, it can't matter.
Our relationship is mostly beautiful… and a little hilarious too.
A few weeks ago I tried to convince her I was black. I even googled ebonics and tried to form convincing phrases. Another time I was leading her through a coffee shop and ran her into a huge table. She had a cane in one hand and my elbow in another and I can attest the cane was slightly more trustworthy.
I definitely have a lot more to learn about the blind culture; to start, how to lead my friend to the Starbucks counter without sending her home with bruises. (Sorry, girl!)
Likewise, I have a lot to learn from the blind culture, from the heart of my precious friend.
One Tuesday night at Bible study, I was sharing a story from my week and grinning ear to ear.
She asked, "Jincy, are you smiling?"
"Yes," I said, "but how did you know that?"
She laughed at me and responded, "I can hear people smiling. It's so cool."
I decided right then that you don't need perfect vision to see the heart of Jesus or the heart of his people.
What you need is love.
How grateful I am to be able to choose blindness every once in awhile; to keep an eye closed to what society and media have defined as beauty. Instead, I can train my eyes to look around for my Savior – who is already in the business of looking for hearts and looking at hearts.
"Man (Jincy) looks at the outward appearance, but the LORD looks at the heart."
It is up to you what your worlds looks like…it really is.
RELATED
Steps for Moms to Help Daughters with Positive Body Image
A Letter to Teen Girls – Love Your Body