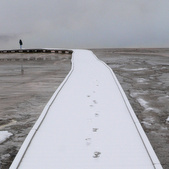 The following lyrics (written by S. Sundar Singh) are both frightening and securing in this freedom journey of mine: "I have decided to follow Jesus, no turning back. No turning back."
Sometimes I sing these words half-heartedly. Other times it is an all-out battle cry, sung with vigor and intensity.
Those of you who know how alluring the voices of anorexia can seem, will know what I mean when I say this: I am often gravely afraid of the words "no turning back"…. pierced with the realization that my life (body, mind, and soul) is not my own any longer. It never was mine to "perfect" in the first place.
All the while, I find myself craving pieces of what the eating disorder so faithfully gave. That being said, I, too, realize that some of the most awful moments I have ever experienced were because I spent years as a slave to this relentless slave master.
This brings me a heightened perspective on the words, NO TURNING BACK.
No longer will I be content with spending every waking moment knocking at death's door.
Here's to a redeemed life that is taking the steps in moving forward, not back…