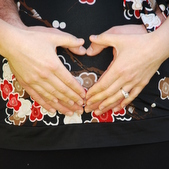 This summer was full of lots of change and new beginnings. We had two weddings in the family and twice as many birthdays. My husband Heath and I were also blessed with the opportunity to go on two vacations. We hiked up Mt. LeConte in the Smokies for our anniversary in June, and in July we went out West and did some exploring in the Rocky Mountain National Park. We also got to see the Badlands and Mt. Rushmore. We had a beautiful, special time.
My husband and I have been blessed to be with each other for nearly nine years–over four of them being married, and I believe that God has given us these years to learn about each other and to have time to really relax and have fun. Well, God has us a family in the works now. Yep, we're expecting! We should expect our little one in May–a perfect time for my husband and me, as we are teachers. We'll have all summer to get to know him/her and figure out what in the world we are doing.
Sharing the news with our families was a joy, especially with our seven-year-old niece. She didn't believe us at first, but when it started sinking in, she couldn't take her eyes off of my stomach. She kept asking, "Is there really a baby in there?" It was precious.
All of this attention is taking its toll on me, however. I have fears about showing too early or too late, and I also have this dreadful feeling that people are going to be monitoring every ounce of food that goes into my mouth and every single pound I gain. As if I'm trying not to be obsessed with it myself!
I'll be honest: I don't know what I'm doing. I have read a couple of books, but I'm still a little unsure about the next eight months…ok…make that mega unsure. However, I know God has a reason for us to be blessed with this new adventure, and this and only this calms me down.
Psalm 34:8 says, "O taste and see that the Lord is good: blessed is the man that trusteth in Him."
Whenever we're unsure, or when we doubt ourselves and our capabilities, God's ultimate plan steps in and proves us all wrong…time and time again.
Even in our most confused, stressed, unsure, and uneasy moments, we'll never go off course when the Lord is steering our ships.
What a beautiful promise in which to start off a beautiful new life!
RELATED
Does Pregnancy Trigger Eating Disorders?
Pregnancy & Restricting: Harmful to Baby?
Avoiding Competition During Pregnancy
Recovering Anorexic: How to Prepare for Pregnancy