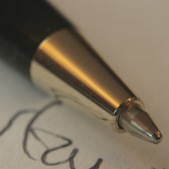 I was watching the fourth hour of the Today Show last week and heard Kathie Lee Gifford share her favorite quote: "everyone has a story." Of course we've all heard that said before, but the bottom line is that God said it first!
II Corinthians 3:3 says, "You show that you are a letter from Christ, the result of our ministry, written not with ink but with the Spirit of the living God, not on tablets of stone but on tablets of human hearts."
What a beautiful way to say it. Each one of us is a letter being written by the Holy Spirit on the tablets of our hearts. In other words, our life story, our letter, is one that is continually being written from the inside out.
Let me say it another way: It's not just that you have a story. You are a story!
How many of you have had chapters of your story that you wish weren't there? Maybe you have sections that you'd like deleted because of the shame attached to them or maybe you have pages that would be too embarrassing if your mom ever read them. We all have dark pages that seem like they don't belong or that would disgrace the family if they ever came to light.
But when you think about the music you listen to, doesn't it always have a part where it crescendos, where the mellow part changes and intensifies for contrast? Isn't it the same with every single movie you've ever been to? There's always a twist in the story or an unexpected plot line that adds flavor and intensity and drama to the whole. Music and movies would be boring without the contrast between parts. So why would it look any different for us? The variance in the musical scores of our lives adds to the texture and timbre of the melody and story line.
I love Psalm 18:24 in The Message Bible: "God rewrote the text of my life when I opened the book of my heart to His eyes." What grace, redemption and beauty resonate in the word "rewrote." Our life story, our life letter is being written in an ongoing way and God is writing our story one line and one page at a time.
I've been loving the book of Jonah lately. In Jonah's story I counted seven times where the word "up" appears and five times where the word "down" is used. And that's just in four short chapters. What an incredible reminder this story is of the fact that God goes through the up's and down's of life with us while we ride the waves of high's and low's because it's all part of the beautifully messy story of our lives.
Jonah gives me hope that God lets us go through our temper tantrums and emotional outbursts all the while using it as part of the plot line in the story of our lives, one that hopefully results in a turn around of surrender and obedience to Him. It really doesn't pay to stay stuck in the part of the story where we kick and scream and are unwilling to bend. Just ask Jonah.
If you've been unwilling to let God have full creative control of your life story, choose today to let Him write again. He's an awesome Author and He's really great at His job. After all, He's got 66 books under His belt. And you, sweet girl, are His story.