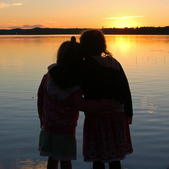 (Memo: heres a poem I wrote. Don't give up the fight!)
"I WOULD"
I would rather live than play dead to ED.
I want to feel alive and feel to heal peeling the layers of my soul where there was a hole.
God's infinite love was abounding and full and He wanted me whole.
Grace brought me to face my pain that was insane.
I never saw the light even though I reached with all my might.
God cried for me and felt my pain and every tear.
He said "Enough."
He brought special helpers in unexpected ways to help me and lead me on this journey.
I may fall down but I will get up again, even if I have to crawl. I won't give up the fight. I will try with all my might. And keep pushing through no matter how hard it is.
I started to live life again through new eyes and becoming renewed both my body and soul. I am healing from the past at last.
I thank God.
I thank God for my life.
..