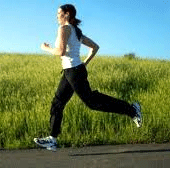 Last weekend was a big one for me – I finished my first race. Ever. Then I ran another one, and got better. Swifter, faster, freer. Yesterday, I finished my third race, and I feel a change in me… in my heart.
I've never been a runner, never enjoyed it or wanted to be called a runner. But about three months ago, as I began my journey in recovery, I registered for a 5k. The reason was simple: I wanted to get healthy, and I needed a goal, something to achieve, to reach for. A mission and purpose with measurable results.
The training was horrible, at first. But I found myself getting stronger, having more faith in my own strength, and pushing myself further each day. Then the race day came. The run itself was a myriad of thoughts and emotions, many of them battling each other. The voice of strength and determination fought the voice of fatigue and discouragement, encouraging me to keep going when my legs just wanted to give up.
Crossing the finish line was glorious. The joy I felt at not only accomplishing my goal, but accomplishing it well carried me through the entire week. I could feel God's pleasure as I heard His still small voice saying "Well done – that's my girl!"
Now I've achieved my goal, and it feels fantastic… But what I am realizing is now I'm looking forward to more. My desire to run is no longer about getting healthy or finishing a race; it's about pursuing excellence in myself, in what I can do, in my body that was created by God to do amazing things.
I want to be able say this in regards to my journey of recovery. It's no longer about just getting healthy, it's about the pursuit of excellence, glorifying God in my body, with what I put in it and what I do with it. So I make this declaration – that I am all in, that I choose to listen to the voice of Truth over Ed's defeating words as I chase freedom in this race called Recovery. And in this I can hear God whispering, "Well done – that's my girl!"
Hebrews 12:1 – Therefore then, since we are surrounded by so great a cloud of witnesses [who have borne testimony to the Truth], let us strip off and throw aside every encumbrance (unnecessary weight) and that sin which so readily (deftly and cleverly) clings to and entangles us, and let us run with patient endurance and steady and active persistence the appointed course of the race that is set before us. {Amplified Bible}