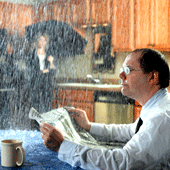 At our last meeting of The Abba Project the topic centered on the way that earthly dads are a model of God the Father. I know there's a ton of pressure for imperfect, finite, human dads to step into shoes that are way too big for them to fill as they impact their children in significant ways that often affect them in being pro-God or anti-God.
Though I've never included the topic of pornography in our dads group before, I did include it this time around.
The reason? I recently received an email from a 26-year old girl asking if I had ever talked to the dads about this issue because she had been negatively impacted throughout her life by her dads lack of wisdom in looking at inappropriate material when she was around. I immediately knew it was important for me to address this issue with the men.
I shared that when a dad brings pornography into his house (magazines, online, movies, etc.) he is creating holes in the covering over his home. Rather than helping to create and defend a safe environment, he is dangerously exposing his family to dark spiritual forces because of his lack of discretion in this area.
I can tell you honestly that I was expecting resistance and defensiveness from the 11 men who sat in the room that night…but that didn't happen! The guys began to share that they agreed with me, particularly with the part about holes in the covering over their home as a result of that behavior.
The truth is that when fathers choose to view inappropriate sexual material it has a very negative impact on their daughters.
Here are a few responses from women (over the age of 18) who I interviewed on this subject. The question I asked was: If you were to tell your dad how you really feel about his behavior if he watches porn, what would you say?
I would tell him to get it together. I would tell him that the woman he's watching having sex on the screen is someone's daughter. How would he like it if I was on that screen doing those things that those women were doing? Yuck! It makes me lose trust with him and it makes me disrespect him.
Please stop. I don't know how you view those women but I don't want to be viewed as someone that can be taken advantage of at your will.
I would tell him he's disgusting and I would ask him how he would feel if he popped in a tape and saw his little girl in the starring role. If he feels like he needs the porn or is entitled to it then maybe he needs help to address what he is really missing in his life that he is filling with the porn.
I'd want to ask if he or the men who view porn think they are contributing to the epidemic of sex trafficking in the USA.
I know this is a heavy topic but as we talk about Positive Parenting I wanted to open up dialogue on this issue. I'd love to hear your thoughts.