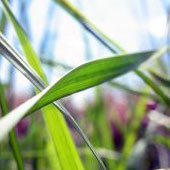 For many years I didn't think I had a testimony. I grew up in a Christian home. I was homeschooled with a significant emphasis on biblical education. My family went to church three times a week. At the age of 7, I knelt by the couch in our living room and asked Jesus to be my personal savior.
I don't have stories of raucous days before conversion. How could my mundane story serve as a persuasive testimony for Jesus Christ?
The marrow of my experience with Jesus began when I was 14. Despite all the godly influences in my life, I was snagged by idolatry and vanity. The summer of 1994 I began a 15-year battle with anorexia. I was in and out of hospitals, in the depths of depression and knocking on death's door.
More than once I fantasized about how peaceful death would be compared to the rabid clamor of degrading thoughts that bombarded me constantly. However, I couldn't explain my need to live. Hope never abandoned me.
Romans 15:13 calls our Father "the God of all hope." That is the summation of my deliverance from anorexia and my passion for the Gospel today. Jesus does not simply promise those who believe in Him a pearly, heavenly eternity. Jesus promises life abundantly now. Jesus came so that my joy today can be complete.
Even as Christ rescued me from anorexia, God continues to add depth to my testimony. I have been married for 10 years to a wonderful man. But more than once I have been moments from walking out the door. It has been a lonely marriage. It has been a thousand times less than what I dreamed it would be.
However, the God of all hope is still my deliverer. And He is more than my deliverer, He is my bridegroom, my lover, my Lord. Jesus has redeemed my marriage and is daily teaching me to love as He first loved me. Watching, studying, learning and following Jesus is the consummate purpose of my life.
Today, my husband, an officer in the Army, is stationed in Virginia. We will be moving again soon, and so my heart is a little heavy at the prospect of once again leaving my church, my home, my friends, my routine. But our life in the military is simply one more way that Jesus continues to win my heart.
He will be my hope and stay no matter where we live, or what I do, or what I go through.
"He is before all things, and in him all things hold together" (Col. 1:17).