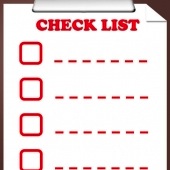 It really hit me this morning, I wake up each day with a list of "have to's" rolling through my mind, and you know, I never thought anything of them. That is how normal they were to me….until literally right now!
Those "have to's" are NOT normal or healthy, they really are restrictive, confining….and so hard to live by! My goodness, how free is my life when "I have to" (no option) do this or that? It's not, not at all and it's a frustrating place to be when those two words have so much control in my life. They are ruling, demanding & dictating.
Sure, I know there are normal that I have to do that are a part of living. But, the "have to's" that come into my mind each morning are not of God who loves me and created me to live freely. They are from the enemy who wants to control and rule over my life.
It really hit me this morning when the eating disorder voices began trying to tell me what I have to do today: I have to wait to eat anything until a certain time. I have to make sure I get xxx amount of walking and exercise in today. I have to restrict what I eat. I have to eat according to a time on a clock and choose foods that are "safe" (according to its rules.) That I have to stand all day and not sit down, that I have to have movement & activity all day long and that I have to go, go, go and do, do, do!
What ridiculous demands….and I followed them for years without balking at them!
It sometimes amazes me how easily I lived that way. I never once thought or realized how locked up they made my life! For years I could not go anywhere without packing my own food because I "had to" eat only certain things. I could not go anywhere without wondering how I will fulfill the "have to exercise" message that truly ruled my life. Uggghhh, what a horrible way to live. That is true imprisonment!
Oh how I thank God that He is working so hard with me to break me from the "have to's" that took over my life! I do not "have to" follow "have to's"! Especially not those ones that restrict me from the way God intends me to live! God gave me this life to enjoy, not be controlled by rules. He gave me life to live according to his design, not by unspoken demands in my head!
I love hearing this truth from God: "Sin is no longer your master, for you no longer live under the requirements of the law. Instead, you live under the freedom of God's grace." Romans 6:14 (NLT)
What a blessed relief that we do not "have to" follow old rules or laws! No more "have to's"! No more rule-based living and no more being controlled by two words! We get to live in the Freedom of God's grace and I love this!
RELATED
A Slave Set Free, Jen Tormanen
Selah House, How They Help You Find Freedom, video
Breaking Free, book by Beth Moore